2013 Oscars Big Musical Finish: Was That It?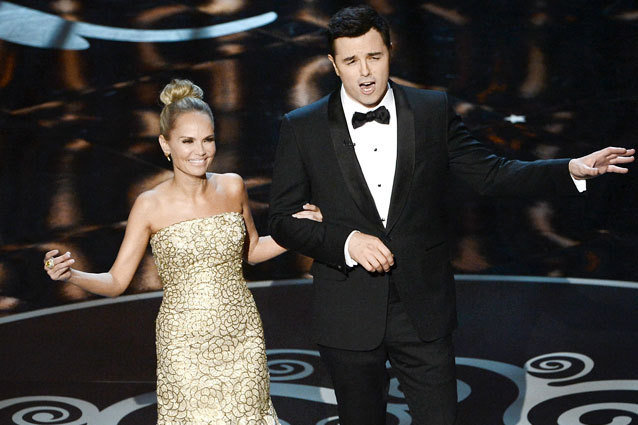 So we made it all the way to midnight, against all odds. We finished the 2013 Oscars telecast. Without falling asleep. And this year, the Academy promised us a big musical finale to send us off in high spirits. (You know, because who wants the heartwarmingly adorable sight of Ben Affleck getting so choked up he could barely muster his daughters' names at the end of his acceptance speech for Argo's Best Picture Oscar to be the last thing we see all night?) But when Kristin Chenoweth and Seth MacFarlane treated us to "Here's to the Losers" (video below), complete with credits rolling over Chenoweth's golden goose of a gown, we were all left wondering, "Was that it?"
RELATED: The Best of the Oscars' Musical Theater Tribute
Yes. It actually was. All that buildup and we got a single shot on Chenoweth and MacFarlane name-listing for two minutes. There were puns! There were Bradley Cooper cheer-up attempts! And oh, were there famous people's names! Sure, it was flashy and the tune was jaunty, but we didn't even get a shot of the actors being joy-shamed as the show closed.
Basically, let's just call it what it really was: classy credits music. Now excuse us as we rewatch Affleck's speech so we can close on a truly high note.
[Photo Credit: Kevin Winter/Getty Images]
---
Oscars 2013 Special Coverage
---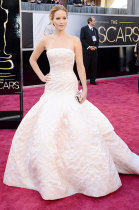 Oscars 2013 Best Dressed: PICS!
• Anne Hathaway: Oscar's Worst Dressed?
• Seth MacFarlane's Opening: How'd He Do?
• Adele's Performance Gets Mixed Reviews
• 15 Oscar-Winning Nude Scenes
• What Happened to Renee Zellweger's Face?
• Oscars 2013: The Full Winners List
• The Winner, According to You
---
From Our Partners:


40 Most Revealing See-Through Red Carpet Looks (Vh1)


33 Child Stars: Where Are They Now? (Celebuzz)