Jennifer Lawrence, Daniel Day-Lewis, and More: Watch the Oscars 2013 Speeches Here — VIDEO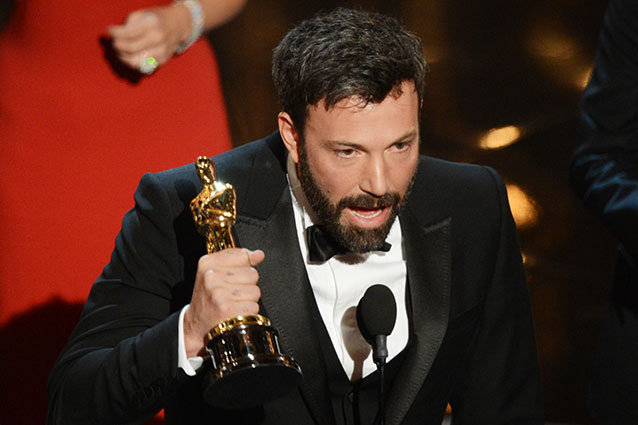 Seth MacFarlane might've brought a little off-color humor to the opening of the 2013 Oscar ceremony, but the rest of the show was pretty uneventful, as far as live, televised events go. Amidst the parade of long-haired blonde men accepting various technical awards there were a few noteworthy acceptance speeches, though.
Miss the ceremony? Here are the most notable acceptance speeches of the night:
Ben Affleck, Best Picture, Argo
Affleck knew how late the show was running, so he began his speech at a speedy clip, frantically thanking everyone from his parents to the nations of Canada and Iran. Once he got to his wife, Jennifer Garner, and finally ticked all the boxes on his "to thank" list, though, he got introspective about his career and how his life has changed since his first Oscar win, for Good Will Hunting in 1998. "I was here 15 years ago or something, and I had no idea what I was doing. Out here in front of you all, I was just a kid. I never thought I would be back here, but I am — because of so many of you who are here tonight. You have to work as hard as you possibly can. You can't hold grudges."
RELATED: Oscars 2013: See the Winners Here!
Daniel Day-Lewis, Best Actor, Lincoln
Day-Lewis is known for immersing himself into his characters, so it's hard to tell what his true demeanor is like. Surprisingly, DDL is a pretty funny guy, willing to poke fun at his method ways in the first genuinely amusing speech of the night. "I do know that I've received more than my fair share of good fortune in my life," he began, before starting with the LOLs: he joked that he'd originally been hired to play Margaret Thatcher (instead of last year's Best Actress winner, Meryl Streep, who presented the award). Check out the rest of the touching (and funny) speech:
Jennifer Lawrence, Best Actress, The Silver Linings Playbook
J-Law's most notable moment didn't come when she accepted her award, but when she tripped up the stairs while heading up to the stage to accept it. The ever-dapper Hugh Jackman and Bradley Cooper ran to assist her, but she recovered on her own. Naturally, the frequent self-deprecator opened her speech by acknowledging her fall. "You guys are just standing up because you feel bad that I fell and that's embarrassing," she joked of the crowd's standing ovation before launching into another of the delightful, genuine speeches she's been consistently giving this award season.
RELATED: Jennifer Hudson at the Oscars: Do You Still Love Her?
Quentin Tarantino, Best Original Screenplay, Django Unchained
Putting aside the fact that Tarantino essentially thanked himself for casting his movie so well — "I want to thank the actors for what they've done when it comes to my script. If people are knowing about my movies 40 or 50 years from now, it's going to be because of the characters I've created. And I've really only got one chance to get it right. I have to cast the right people to make those characters come alive and hopefully live for a long time. And boy, this time, did I do it." — things got especially weird when he got played off, started to leave the stage, but decided he wasn't actually done after all.
Follow Jean on Twitter @hijean
[PHOTO CREDIT: Robyn Beck/AFP/Getty Images]
---
Oscars 2013 Special Coverage
---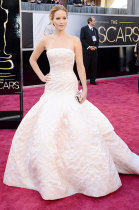 Oscars 2013 Best Dressed: PICS!
• Anne Hathaway: Oscar's Worst Dressed?
• Seth MacFarlane's Opening: How'd He Do?
• Adele's Performance Gets Mixed Reviews
• 15 Oscar-Winning Nude Scenes
• What Happened to Renee Zellweger's Face?
• Oscars 2013: The Full Winners List
• The Winner, According to You
---
From Our Partners:


40 Most Revealing See-Through Red Carpet Looks (Vh1)


33 Child Stars: Where Are They Now? (Celebuzz)