Oscars Rehire Craig Zadan and Neil Meron to Produce: Sign of Faith or Do-Over?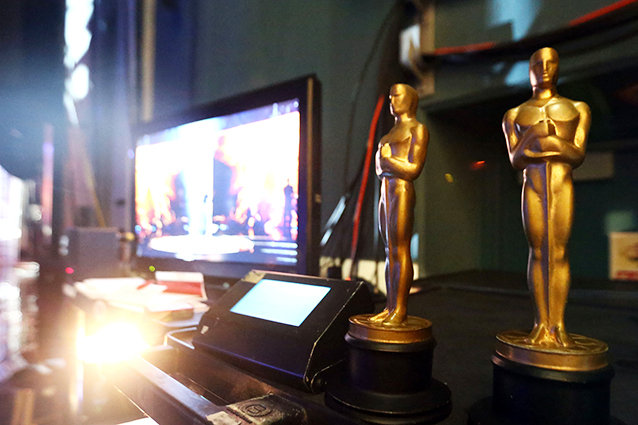 Last year's Oscars pulled off the impossible: all at once, it was one of the more sluggish shows in Academy history while stirring the pot with Seth MacFarlane's controversial humor and showcasing a number of shocking wins. The ceremony was masterminded by Craig Zadan and Neil Meron, the producers of Chicago and NBC's Smash and reception to their work was split down the middle. Even we here at Hollywood.com were divided, some of us approving of MacFarlane's hosting, some of us who found a grueling endurence test.
So color us surprised that the Academy is rehiring the duo for next year's show, already set for March 2, 2014. The decision of who will oversee the prestigious ceremony is normally left to the final months of the year. But the official press release explains, "in order to establish continuity with this year's enormously successful show, we felt it was important to give these consummate professionals the green light now to begin creating another great evening." Continuity? Is this a Marvel comic book movie? Apparently the dense mythology established at last year's Oscars requires an experienced touch for the sequel.
In some ways, what didn't work in Zadan and Meron's last effort was what made it a huge success. Their 84th Oscars ceremony drew in 40.3 million total viewers, delivered a 13.0 rating among adults 18-49 and became TV's most watched telecast in three years, per data from the Academy. Hiring MacFarlane — who has already stated he won't be returning for the 2014 show — certainly helped hook the younger audience. What tactics will the team take this year?
The announcement of Zadan and Meron's return reminds us that their show "displayed a signature style that incorporated a single concept for the entire evening which linked together the disparate elements of the Oscar show through music," meaning the point of hiring them again is to utilize the same concept. But this can't be a simple copycat act — last year's telecast ran 30 minutes longer than usual, with "tributes" bloating the show without any rhyme or reason. Thanks to Zadan and Meron's Broadway roots and the Academy's forced love for Les Misérables, the 85th Oscars tipped their hat to the modern movie musical. Great concept, terrible execution. Bowing down to Chicago, the effort was a pat on the back to their own work.
Adding to the confusing fluff of the night was the James Bond tribute, which offered little in the way of authentic 007 love (none of the actors appeared and Halle Berry's Jinx from Die Another Day appeared in a montage three times!). Zadan and Meron won points for recruiting Bond mainstay Shirley Bassey to sing a medley of theme songs, but it lacked pizazz. This is Bond, a character who's survived 50 years of cinema, a golden Hollywood franchise. If Zadan and Meron are going to try their hand at mustering nostalgia and merging it with the evening's festivities, they're going to have to do more than throw ideas at the wall.
In some ways, rehiring Zadan and Meron feels akin to Ocean's 12/Ocean's 13. After the major misfire of the Ocean's sequel, Steven Soderbergh decided he should really come back to the franchise and go out with a bang. He experimented, now he had to try and find the soul that made the original concept so engaging. For naysayers of last year's Oscars, the return of Zadan and Meron shouldn't be an immediate red flag. The Academy Awards do need showstoppers, they do need gushing about old movies, they do need silly comedy bits featuring our favorite celebrities, and they desperately need a host with a little edge. Zadan and Meron were on the right path, but they flopped in the organization. It wasn't Hollywood's night, it was Hollywood's biggest circus.
Are there comedians with an ounce of charm left in the world? Rumors swirled early in the 2013's planning stages that Jimmy Fallon or Jimmy Kimmel could step in as hosts — that would be perfect. Kimmel knows his movies and pop culture, Fallon too (with the added bonus that he can sing, dance, and play off Zadan and Meron's musical sensibilities). And while he's made every stop on the hosting circuit, Neil Patrick Harris is an obvious, solid choice. For many, he's the bridge between mainstream and the theater world. Music to Zadan and Meron's ears.
The producing team's repechage gives them an advantage of knowing the hurdles necessary in tackling the Oscars with the unprecedented time to pull it off. They can watch the cultural reaction to a year in movies and target the zeitgeist more accurately. They'll have ample time to ensure that William Shatner doesn't strong-arm anyone into letting him take part in the telecast. Taking a hit from critics and social media reaction will impact the way business is conducted this year — meaning, Zadan and Meron's return isn't simply a sign of faith or call for do-over. It's a demand to take notes and restage. Two guys familiar with Preview Nights of Broadway musicals know a thing or two about that.
Keep this in mind: with Smash all but cancelled, these two need something to do. Why not the Oscars again?
Follow Matt Patches on Twitter @misterpatches
More:
Seth MacFarlane Will Not Host 2014 Oscars — Who's Next?
Oscars 2013: Read the Losers' Discarded Speeches
The Burning Questions of Oscars 2013
---
From Our Partners


Jessica Alba Bikinis in St. Barts (Celebuzz)


Which Game of Thrones Actor Looks Least Like His On-Screen Character? (Vulture)