Jennifer Hudson, Catherine Zeta-Jones, & 'Les Mis' Cast in Oscars Musical Tribute: Better The Second Time Around?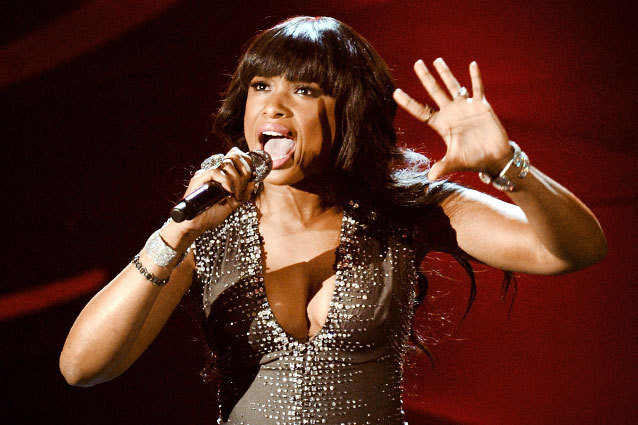 The Oscars are all about music this year, so of course we took a trip down memory lane with the best of the last 10 years of Oscar-nominated musicals. That means we got "All That Jazz" from Chicago's Catherine Zeta-Jones and "And I'm Telling You" by powerhouse American Idol reject Jennifer Hudson… and they let the cast of Les Mis play along too (video below). 
RELATED: Seth MacFarlane's Monologue: What'd You Think?
Zeta-Jones opened the tribute with a little jazz, bringing the iconic, jaunty tune from Chicago back to life. Surrounded by dancers who clearly didn't understand the choreography of Bob Fosse, Zeta-Jones reminded us that she is impervious to aging. Of course, it helps that the silver, tin foil curtains behind her look like they came straight from the '80s. 
Hudson brought down the house, proving to those who doubted her Best Supporting Actress win for Dreamgirls that not only were they wrong, but that our girl has gotten even better (if that's even possible). When she ended her completely unadorned, yet incredible performance inspired the entire Dolby Theater to deliver a standing ovation. Then the Les Mis part began. 
RELATED: Shirley Bassey's "Goldfinger" Is Gold at Oscars
The cast of Les Miserables, including Anne Hathaway, Hugh Jackman, and Eddie Redmayne, took the stage with a medley that they wisely opened with the only original song from the score, "Suddenly." Of course, they also decided to let Russell Crowe, the man who tried and failed to sing throughout the Tom Hooper film, sing with them too. How sweet. But could they match their emotional, live-singing performances from the film?
[Photo Credit: Kevin Winter/Getty Images]
---
Oscars 2013 Special Coverage
---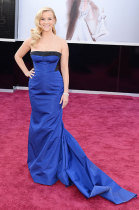 Oscars 2013 Red Carpet Arrivals: PICS!
• Anne Hathaway: Oscar's Worst Dressed?
• 15 Oscar-Winning Nude Scenes
• Seth MacFarlane's Opening: How'd He Do?
• Oscar's Problem With Pretty Boys
• What Happened to Renee Zellweger's Face?
• Oscars 2013: The Full Winners List
• The Winner, According to You
---
From Our Partners:


25 Most Scandalous Celeb Twitpics (Vh1)


33 Child Stars: Where Are They Now? (Celebuzz)