Owen Wilson and Vince Vaughn Together Again! — 5 Other Reunions We Still Need
We were sold with that very first scene of Wedding Crashers — amid all the clamor over divorce proceedings, exclamations of "Hillbilly!", an ad-hoc rendition of the Isley Brothers' "Shout," and an unbridled celebration of the glory of crabcakes, we realized something: Owen Wilson and Vince Vaughn were a perfect comic duo. Since the 2005 comedy hit, however, we haven't seen this pair join forces to headline a movie. Seven years! Seven years without Wilson's cavalier drawl complimenting Vaughn's rapid-fire explosion of neuroses. But this joyless hiatus is coming to a close with the duo's next feature film, The Internship.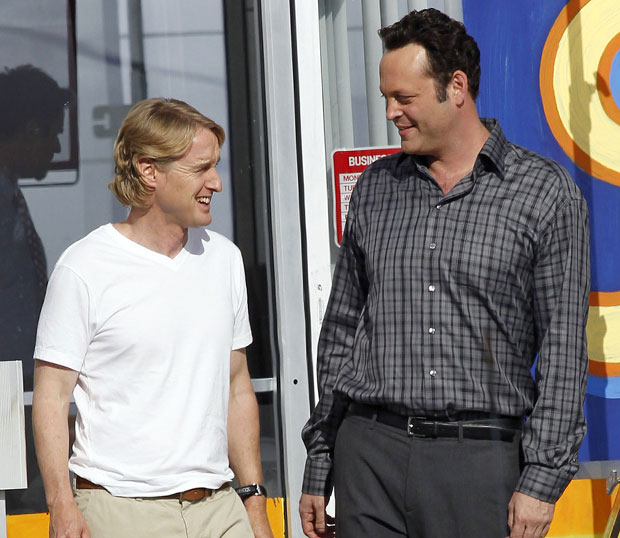 Here, we see Wilson and Vaughn take up together on the set of the new movie, which will center around a pair of middle aged career men who lose their jobs and need to start back at the bottom of the corporate ladder with internship positions. It's the sort of loose-fitting plot that will allow the dynamic comedy borne organically between these men to flow free, producing all the laughs Wedding Crashers gave us back in '05.
So now that Wilson and Vaughn are slated for this reunion, what other pairs are we still waiting to see get back together on screen? And how would we most like to see them reunite?
Michael J. Fox and Christopher Lloyd
Imagine a 2015 without flying cars or hover boards… in other words, a time when we would, in fact, need roads. You know, the 2015 that we're actually going to get. Now, take a 54-year-old Michael J. Fox and a 77-year-old Christopher Lloyd and pair 'em up for the first time since the Back to the Future series for a tender dramedy about the misunderstood friendship between a joyless businessman and his aging former mentor. Great Scott, this would be heavy (sorry, that wasn't even clever… it just had to be said).
Tom Hanks and Denzel Washington
While they weren't exactly laugh riots in Philadelphia, we think this pair has the potential to dole out an outrageous buddy comedy. Maybe a down-on-his-luck gambling addict (Hanks) gets in bad with some dangerous characters and turns to his recovering rage-aholic brother-in-law (Washington) to get him out of this jam.This duo sets off on a journey, heading right into a series of risky adventures in an effort to escape their pursuers… and each other. 
Matthew Broderick and Alan Ruck
Almost three decades after Ferris Bueller's Day Off, it'd be nice to see if Ferris and Cameron have kept in touch. Perhaps a slice of life comedy about two doting dads and lifelong pals who take their kids on a camping trip, only to inadvertently thrust their unwilling children into an onslaught of family friendly hijinks. Or maybe a hard R about two desperate over-the-hill saps who head out past the confines of their New Mexico suburb, treading into the seediest clubs in the crime-laden desert. Just a couple of ideas.
Woody Harrelson and Jesse Eisenberg
I know Zombieland is hardly the time-tested classic that Back to the Future, Philadelphia, and Ferris Bueller are, but it was a damn good movie, and I really want to see Woody and Jesse again! Sorry, I was expecting a lot of "Are you kidding me?"s for this one. I'd believe them as a pair of estranged brothers who find out about one another at their elderly father's funeral, or two innocent passengers stuck amid a train heist, who must band together to save the day (with the former's brawn and the latter's brains). On board? (Hey, that could be the name of the movie!)
Will Smith and Alfonso Ribeiro
Here's the kicker. Will Smith is known for protecting New York City against supernatural baddies, right? And he always has a partner, right? (Tommy Lee Jones, Josh Brolin, Jeff Goldblum, a robot, a dog, Kevin James… what? Heartbreak is a supernatural villain!) Well, how about vampires? Or ghosts? Mummies? It really doesn't matter. All that matters is his sidekick: his Fresh Prince of Bel Air cousin Alfonso Ribeiro. Now that's something we'd all see.
[Photo Credit: PacificCoastNews.com]
More:
Is Bradley Cooper David O. Russell's Replacement Muse?
Channing Tatum and the Men of '10 Years' — EXCLUSIVE GALLERY
Kate Winslet's 'Titanic' Screen Test Opposite a 'Clueless' Jack — VIDEO
From Our Partners:

Blake Lively Talks Life with Ryan Reynolds in 'Allure': "I've Never Been Happier" — PHOTOS
(Celebuzz)

(Celebuzz)