Own 'The Town' On Blu-ray December 17th!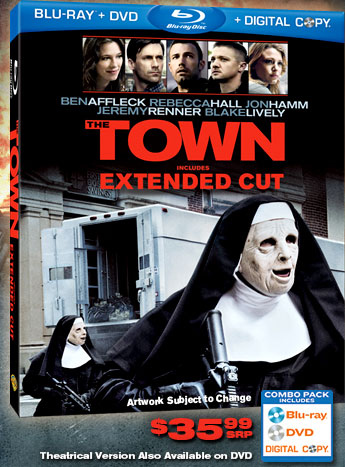 With two lauded films in a row, Ben Affleck has become one of the industry's most celebrated filmmakers and Warner Home Video has today announced that his commercial and critical hit The Town will be available on Blu-ray/DVD on December 17th!
The film, based on Chuck Hogan's best-seller "Prince of Thieves", follows a group of bank robbers trying to evade a determined FBI agent and a woman who could just as easily as bring them down. Affleck, Jeremy Renner, Blake Lively, Rebecca Hall and Jon Hamm star and now you can experience the thrill of the chase anytime with this killer Blu-ray that features 23 MINUTES of extra footage! That's right – an extended cut with the Blu-ray disc, DVD and Digital Copy and close to half an hour of more story and shoot-outs! Sounds like a winner to me, but check out all this sweet bonus content that is also included:
Director's commentary (on theatrical version and extended cut)
Making-of documentary: Ben's Boston, with six Focus Points:
The Cathedral of Boston
Pulling Off the Perfect Heist
The Town
The Real People of the Town
Nuns with Guns: Filming in the North End
Ben Affleck: Director & Actor
The best part about owning The Town is that you don't have to rob a bank to get your hands on it, so make sure to order this exceptional film today!
Source: Warner Home Video