'Oz the Great and Powerful' is Not Your Grandma's Land of Oz — POSTER
Well, if you had any doubt that the James Franco-fronted Oz the Great and Powerful was at least going to be very visually interesting from the trailer, let the new poster for the film quell any of those now. This…is no your grandma's Land of Oz, my friends. Not at all! In fact, there's pretty much nothing about this that makes you think of the Judy Garland-starring movie from the '30s whatsoever. It looks like the Wicked Witch of the West (aka the one who doesn't get killed by Dorothy's house…that didn't need a spoiler alert, right?) has the title of "sexiest witch" on lock. Homegirl is working those skin-tight pants and knee-high boots like they're going out of style.
What happened to the striped tights? Where are the ruby (or silver, in the book version) slippers? I dig that this witch seems real nonplussed about the absolutely terrifying monster tree to her left, but this just feels like too far of a stretch from the original source materials.
And while Oz has gone from a quiet country spot with an Emerald City, this almost tropical-feeling landscape feels a bit more alive (and full of frightful and delightful creatures of all shapes and sizes?), proving that Disney is really trying to go for the visually-stunned "wow" factor, if nothing else.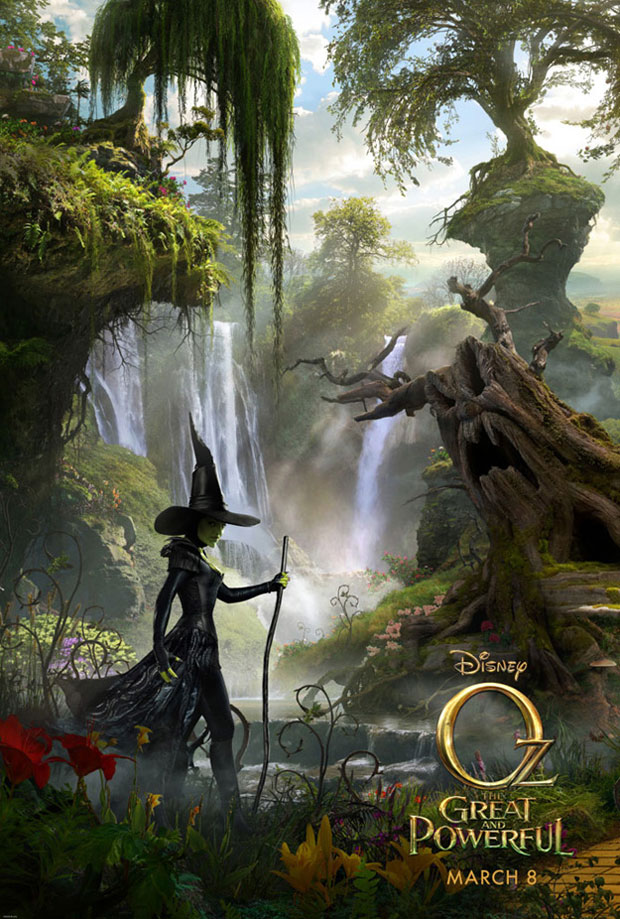 There's a bit of yellow brick hiding in the corner, too, which is good. And it seems a smart marketing move to allude more to the story people know and love (The Wizard of Oz), rather than focus on this film's main character, (Oz, the wizard himself) and how he came to be there. If nothing more, the nostalgia attached to The Wizard of Oz will get plenty of people in the seats to check out what a likely-all-CGI'd Land of Oz would look like.
Oz the Great and Powerful crashes into theaters on March 8, 2013.
Are you excited for Oz the Great and Powerful? Let us know in the comments!
[Photo Credit: Walt Disney]
Follow Alicia on Twitter @alicialutes
More:
'OZ, Great and Powerful' Footage Overflows with Imagination — VIDEO
OZ The Great and Powerful' First Look is Imaginative, Illustrated — POSTER
New 'Twilight: Breaking Dawn – Part 2' Clip: War is Coming
From Our Partners:

Exclusive New 'Twilight: Breaking Dawn' Trailer!
(Moviefone)

(Moviefone)