'PA: The Chronology' Accompanies 'Paranormal Activity 3' Blu-ray Release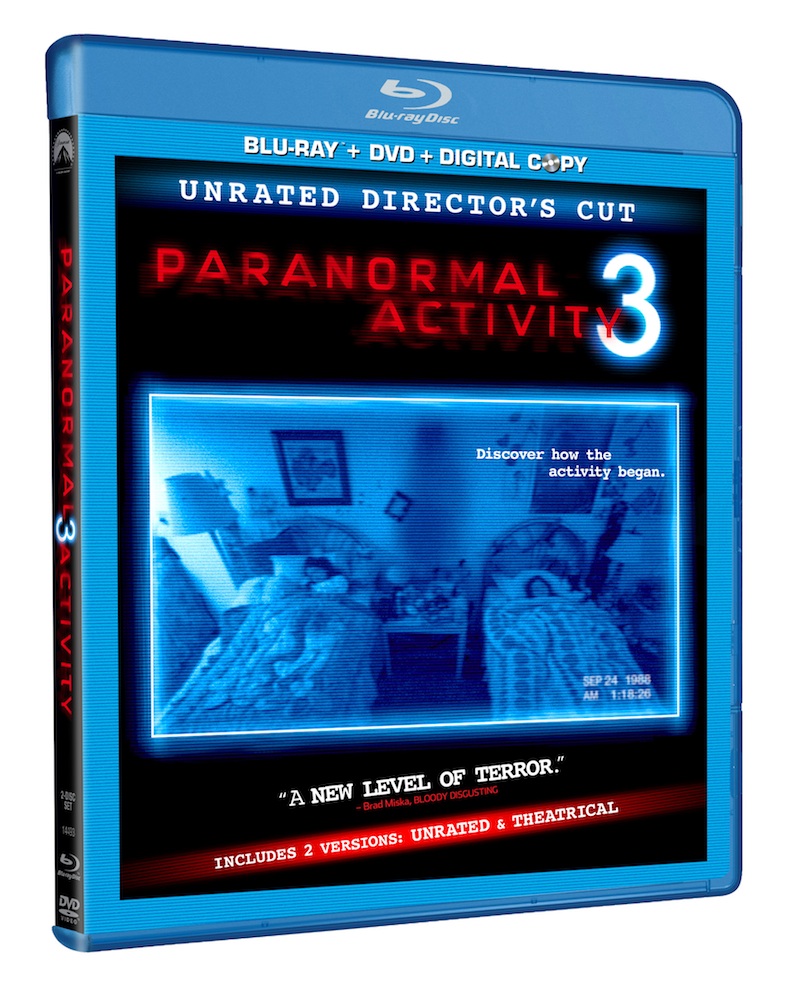 Before Paranormal Activity 3 hit theaters this October, I had never seen any of the movies. But hanks to the wonders of Netflix, I was able to sit myself down, devour the first two movies, then immediately proceed to the theaters for #3.
The experience was something of a shock—in my eyes, PA has achieved the impossible, pumping out a film annually for the past three years with each entry stepping up the game. Directors Ariel Schulman and Henry Joost found a new twist in the mythology, turning Paranormal Activity 3 into the best of the series. Now, their film is hitting Blu-ray, along with a special treat for hardcore PA fans.
Paranormal Activity: The Chronology, a special marathon version of all three movies, will hit Digital Download prior to PA3's Blu release. Of course, the Blu is chock full of special features, including additional footage from the movie (supposedly, Joost and Schulman shot enough to make a whole other version of the movie, so you can imagine the possibilities of DVD extras).
Here's the official press release:
HOLLYWOOD, Calif. (December 20, 2011) – The record-breaking franchise that has terrified audiences around the world returns with the scariest story yet as PARANORMAL ACTIVITY 3 debuts on January 24, 2012 from Paramount Home Entertainment in a Blu-ray/DVD combo pack with UltraViolet™ and a Digital Copy.  PARANORMAL ACTIVITY 3 will also be available On Demand.  "Terrifying" (Time) with "heart-pounding scares" (BloodyDisgusting.com), PARANORMAL ACTIVITY 3 takes audiences back to where it all began with the masterminds behind the first two films returning to craft a hauntingly chilling follow up.  Directed by Henry Joost and Ariel Schulman, the filmmakers who created the unsettling sensation Catfish, PARANORMAL ACTIVITY 3 achieved the biggest theatrical debut for a horror film ever, ultimately earning more than $200 million worldwide.
Arriving on January 24th, the PARANORMAL ACTIVITY 3 Blu-ray/DVD combo pack includes both the theatrical version of the film and an unrated version with footage not seen in theaters, as well as Lost Tapes that reveal more footage not seen in the film.  In addition, all ?Blu-ray and DVD releases available for purchase will be enabled with UltraViolet, a new way to collect, access and enjoy movies.  With UltraViolet, consumers can add movies to their digital collection in the cloud, and then stream or download them – safely and securely – to a variety of devices.
And, in a first, all three films in the franchise will be available for Digital Download prior to the Blu-ray/DVD debut. This unique experience, called Paranormal Activity: The Chronology, presents the films in chronological order as a seamless marathon.
PARANORMAL ACTIVITY 3 Blu-ray/DVD Combo Pack
The PARANORMAL ACTIVITY 3 Blu-ray is presented in 1080p high definition with English 5.1 DTS-HD Master Audio, French 5.1 Dolby Digital, Spanish 5.1 Dolby Digital, Portuguese 5.1 Dolby Digital and English Audio Description with English, English SDH, French, Spanish and Portuguese subtitles.  The DVD in the combo pack is presented in widescreen enhanced for 16:9 televisions with English 5.1 Surround and English, French, Spanish and Portuguese subtitles.  The digital copy is presented in English.
The Blu-ray/DVD combo pack breakdown is as follows:
Blu-ray:
Original Theatrical Version of the FilmUnrated Version of the FilmLost TapesDVD:
Unrated Version of the FilmDigital Copy of Unrated Version—Compatible with iTunes® and Windows MediaA trilogy DVD set will also be available on January 24th exclusively at Walmart, which includes the theatrical and unrated versions of all three films plus all previously released bonus material.
Following the January 24th debut of the Blu-ray/DVD combo pack, the unrated version of PARANORMAL ACTIVITY 3 will be available on a single-disc DVD exclusively at Walmart on February 14th.   A single-disc DVD of the theatrical version of the film will also be available nationwide on February 14th.