'Pacific' Emmy-Winner McKenna Plans 3D World War II Flick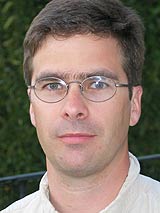 After not surprising anyone by winning the Emmy for Best Miniseries last night, The Pacific's co-executive producer and writer Bruce McKenna wants some more and according to Deadline, he'll have his chance.
Last week, McKenna pitched The Battle of Midway to Warner Bros — a 3D film telling the story of the 3-day long battle in the Pacific Ocean which is touted by history professors as the turning point in the naval war against the Japanese. The studio must have liked it, because they bought it and are fast tracking the film. McKenna is expected to turn in a script in eight weeks and the movie will cost around $200 million.
No word on casting yet, but Tom Hanks will probably be involved in some capacity (either as a producer on the project or hopefully as a star, but don't hold your breath).
This isn't the first time the Battle of Midway will be captured on film. In 1942, director John Ford won an Oscar for his documentary short film, The Battle of Midway, using real footage shot by the Navy. Then in 1976, Charlton Heston, Henry Fonda, James Coburn, and Hal Halbrook starred in Midway — another take on the famous battle in the Pacific Theatre.
This one may not have real footage or Henry Fonda, but according to Warner Bros, the production will be influenced by more recent rousing war films like Saving Private Ryan or Pearl Harbor. Hopefully, more of Saving Private Ryan. Hopefully.
Source: Deadline Hollywood