Paramount Producing Justin Bieber 3D Biopic (UPDATE!)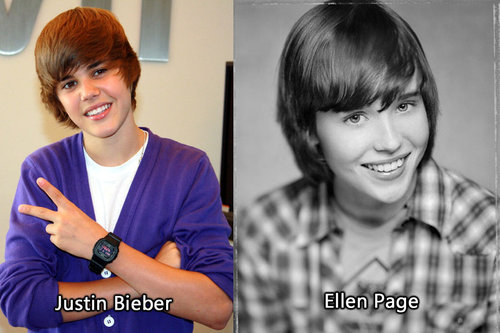 As the End of Days grow nigh (2012, guys), the portents of our doom grow ever more difficult to ignore.  Paramount Pictures, a major movie studio, has just inked a deal with Justin Bieber to turn his "life story" into a 3D feature biopic.  Yes, you read that right, a biopic about a 16-year-old whose music career began barely two years ago.  Let the self-evident absurdity of that concept sink in.
And it gets worse: Davis Guggenheim, the Oscar-winning director of An Inconvenient Truth, is in negotiations to direct the film.  Really Davis, a 3D Bieber biopic?  The only inconvenient truth I see here is that you must be really short on cash.
[UPDATE: As of this morning, Davis Guggenheim has reportedly come to his senses and gotten the hell out of Dodge.  Officially, he is politely "passing" on the project.  I guess the Oscar-winner realized he couldn't live with creating an unstoppable (3D!) tween-girl extortion machine, even for a tasty payoff.  Well done sir.]
The young pop singer will play himself in the film (apparently they couldn't get Ellen Page), which will document his hard-scrabble beginnings (a middle-class childhood in Ontario's suburbs!), his discovery (YouTube!), and his meteoric rise to stardom.  Featuring exclusive footage of his current world-wide concert tour, the untitled Bieber biopic will hit theaters February 11, 2011 – just in time for Valentine's Day.
An excited Bieber hit the Twitter with the news: "Next Valentine's we r coming with a major 3D Movie telling the story with an Oscar winning director and also filmin the tour at MSG in NYC!!"  And: "This is so sick!! Gonna come out in theatre's Worldwide Valentine's 2011!!! I'm taking this thing worldwide thanks to u all!! Hyped!!"
Bieber's manager Scooter Braun and Island Def Jam chairman L.A. Reid will produce the film, which will likely be co-released with the singer's upcoming memoir about his life, for which he recently made a deal with publisher HarperCollins.
Shame.  Shame on HarperCollins, shame on Paramount.  And shame upon this great nation, whose prepubescent hordes continue to fund this cultural menace with their millions upon millions of YouTube pageviews.  History will not be kind to Paramount's shameless capitalists, for whom the allure of easy money overcame all sense of human dignity.
We will now observe a moment of silence.
Source: Deadline