'Paranormal Activity 3' Breaks Records!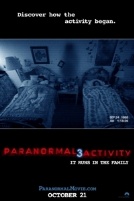 An amazing record-breaking debut for Paranormal Activity 3 of $54.020 million exceeds all expectations and gives it the biggest horror debut ever(beating previous record holder Paranormal Activity 2 with $40.68M) and the sets a record for best October debut (beating Jackass 3-D's $50.35M). Paranormal Activity 3 is the third installment of one of the most profitable film franchises of all-time. The original film released in September 2009 caused a sensation when the micro-budgeted film came seemingly out of nowhere and wound up earning nearly $108 million in total domestic revenue. During the same weekend last year, Paranormal Activity 2 scared a whopping $40.68 million out of audiences in its debut weekend and this third installment easily topped that tremendous performance.
The former reigning two week champ, Real Steel from Disney drops to second place with $11.3 million in its third weekend of release against a 31% drop and a total domestic take of $67.2 million by Sunday night. Hugh Jackman stars in this story of an underdog robot boxing champ that goes back into the ring for a shot at redemption.
Paramount's Footloose dances into its second weekend after a second place debut last weekend and with solid numbers that have placed among the top earners in the mid-week contest. This re-make of the 1984 blockbuster takes third place with $10.8 million and will finish out the weekend with around $31 million in total revenue.
Another newcomer jumps into the fourth spot as Summit Entertainment's The Three Musketeers in 3-D slashed its way to a soft $8.8 million debut. The latest in a long line of big screen adaptations of the Alexandre Dumas classic, this PG-13 version stars Milla Jovavich and Matthew Macfadyen and had appeal to those looking for a bit of old school swashbuckling action at the multi-plex.
Fifth place goes to critical darling The Ides of March from Sony Starring Ryan Gosling and George Clooney. The political drama drew another $4.9 million in its third weekend of release and its domestic cumulative nears $30 million.
Johnny English Reborn from Universal starring British comedic actor Rowan Atkinson as a bungling secret agent debuted in eighth place with just $3.8 million. The film is the sequel to the 2003 spy comedy Johnny English.
The overall weekend was down about 7% despite the enormous and record-breaking debut of Paranormal Activity 3, but we should get a nice boost this coming weekend with Puss N Boots, The Rum Diary and In Time all set to hit theaters.
Weekend Box Office
Top Movies for Weekend of October 21, 2011 (Estimates)
Movie Weekend Gross Total to Date
1 Paranormal Activity 3 (NR) $54.0M $54.0M
2 Real Steel (PG13) $11.3M $67.2M
3 Footloose (PG-13) $10.85M $30.9M
4 The Three Musketeers (PG13) $8,8M $8.8M
5 The Ides of March (R) $4.9M $29.1M