'Paranormal Activity 4': You'll Never Look at Your XBox Kinect the Same Ever Again — TRAILER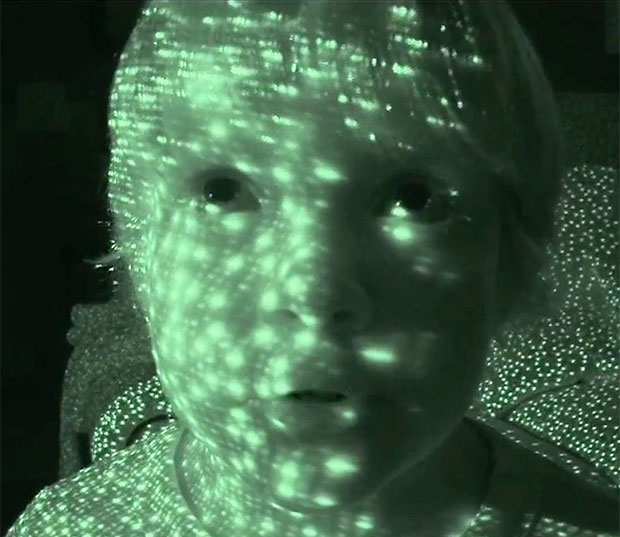 The producers behind the Paranormal Activity franchise may churn out installments at the speedy pace of one a year, but you can't fault them for not attempting to mine new territory with each one.
Paranormal Activity and Paranormal Activity 2 were pretty standard haunted house movies, with the latter hinting at a larger mythology founding the evil spirit antics. Paranormal Activity 3 sent the annual affair off the deep end, weaving in witch covens, devlish iconography, and an explanation for what the heck had been going on for three movies worth of spiritual terrorizing.
Now with #4, the filmmakers have devised a way to incorporate a classic horror trope into the mix: the creepy kid. Robbie isn't the young boy Katie, the Paranormal Activity series' possessed central character, kidnapped in the second movie (that's Hunter), but from the latest trailer for the movie, he does seem to be communicating with the dead. Not to mention scribbling "HUNTER" across the walls in crayon. Someone get this kid an after school program!
Returning to direct Paranormal Activity 4 are PA3 duo Henry Joost and Ariel Schulman, and they've brought back many of the details established in their first outing. But perhaps their greatest innovation for the fourth entry is the inclusion of XBox Kinect motion sensor technology. Yes, it's likely a brilliant moment of product placement, but like the directing duo's use of VHS cameras and oscillating fans in the '80s-set prequel, Joost and Schulman have again found a way to seize modern technology. Plus, it's downright scary.
Paranormal Activity 4 appears out of nowhere to make you scream on October 19. Watch the trailer in HD at Apple.
Follow Matt Patches on Twitter @misterpatches
[Photo Credit: Paramount Pictures]
More:
'Paranormal Activity 4': The Ghosts Are on Your Skype Call
'Paranormal Activity' Swaps Ghosts for Fantasmas in Latino Spin-Off