'ParaNorman' Stars Anna Kendrick & Leslie Mann On All Things Paranormal — VIDEO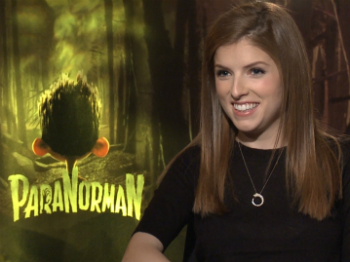 Welcome to the town of Blithe Hollow! Everything about this place is focused on a famous witch-hunt that happened nearly 300 years ago, but when the area comes under siege again, it's 11-year-old Norman Babcock (Kodi Smit-McPhee) who must save the day in the new animated film, ParaNorman.
Being an outcast is nothing new for Norman, who is not only obsessed with ghost lore, but can actually see the spirits of the dead. In fact, he never forgets to leave room on the couch for his deceased grandmother (Elaine Stritch) while his mother (Leslie Mann) and father (Jeff Garlin) are left to wonder about the seemingly strange practice. School is no easier for Norman as he is constantly bullied by Alvin (Christopher Mintz-Plasse) and only finds refuge in his friendship with naïve Neil (Tucker Albrizzi).
But when Norman's uncle Prenderghast (John Goodman) reveals that a centuries-old witch curse is about to come true, Norman's world is turned upside down as he tries to stop it from harming the town's citizens. With the help of his sister, Courtney (Anna Kendrick), Norman fights a septet of zombies in hopes of protecting the town and restoring order.
Hollywood.com recently sat down with Smit-McPhee, Mann, and Kendrick to get the scoop on doing improv with the cast, crushing on co-stars, and believing in paranormal activity.
ParaNorman is in theaters on Friday, August 17, and be sure to check out our exclusive interview with the stars below.
More:
New 'ParaNorman' Trailer is Funny, Spooky, and Sweet
Animated Movies That Make Us Cry
Hear Casey Affleck and McLovin In the New 'ParaNorman' Trailer