'Parker': Jason Statham as a Priest and a Cowboy? — TRAILER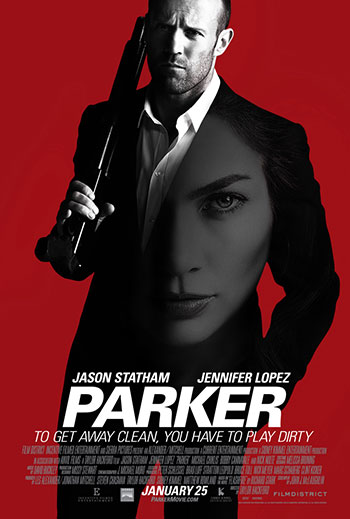 Jason Statham is headed back to the big screen, and can you guess what role he'll be playing? I'll give you three tries, and the first two don't count…
That's right, he's a law-breaking bad-ass out for revenge!
The Expendables star is taking on the titular role of Parker, the main character of the crime thriller based on the series of bestselling novels by Donald E. Westlake. Parker is a professional thief who lives by a personal code of ethics: don't steal from people who can't afford it and don't hurt people who don't deserve it. This lifestyle works for him until his latest job, when he gets stabbed in the back by his crew who steal his cash and leave him for dead.
Parker sets out on a course of revenge, leading him to Palm Beach and partner-in-crime Leslie, played by Jennifer Lopez. Together they plan to take down the guys who wronged Parker, and they just happen to be planning their biggest job ever… Cue the car crashes, knock-down-drag-out fights, and Statham's hilarious attempt at a Southern accent and priest getup.
Directed by Academy Award nominee Taylor Hackford, Parker also stars Vegas' Michael Chiklis, The Wire's Wendell Pierce, and Academy Award nominee Nick Nolte.
Check out the trailer below, and hit the comments section to tell us what kind of crazy prop you want to see Statham take someone out with! It looks like we'll see him use a toilet tank lid and a bar stool, among others.
Parker hits theaters January 25.
Follow Sydney on Twitter @SydneyBucksbaum
[Photo Credit: FilmDistrict]
More:
Jason Statham to Kick Ass Again in 'Parker'
Jason Statham: I'll Never Be a Great Actor