'Parks & Rec' Star Nick Offerman Steals Sundance in Wonderful Teen Comedy 'Toy's House'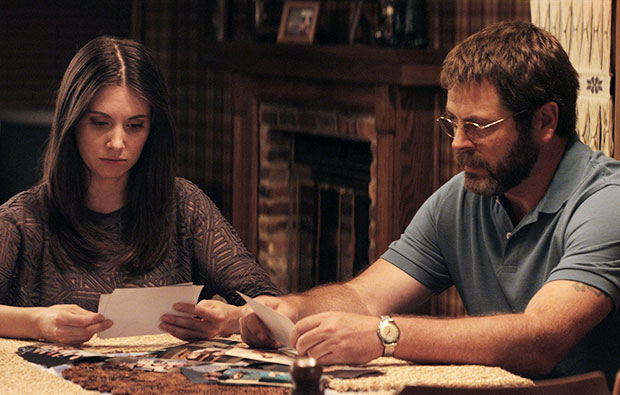 First I must apologize to the makers of Toy's House. I am sorry. I am very, very sorry and I will never do it again. I fell asleep during the movie. Like a 10-year-old on New Year's Eve I was filled with excitement but my eyes just got too heavy and sleep overwhelmed me, shuttling me off into an unwanted unconscious for about 15 minutes somewhere in the middle.
That is not a reflexion on the movie. This is a result of being at Sundance, where the movie premiered, for almost a week and, well, living like a teenage boy. It's all staying up late, procrastinating your homework, watching way too many nerdy (but awesome movies), talking to your friends instead of working, eating mostly things that come in bags, and riding in buses. Lots and lots of buses. That's why I was so tired by the time I got to Toy's House, the third movie of my day.
My lifestyle was quite fitting though because the movie is about what happens when teenage boys try to live like adults (instead of the reverse, which is, at least until the festival is over, my life). Joe Toy (Nick Robinson) is sick of living by the rules of his gruff and comically sadistic father (Parks and Recreation's Nick Offerman whose mustache appears to be growing and his devoured the lower half of his face) and his best friend Patrick (The Big C ginge Gabriel Basso) is sick of his comically overbearing mother (Offerman's IRL wife Megan Mullally) so the two of them decide to move into a house they build in the woods. Along for the ride is Biaggio (Moises Arias) and Kelly (Erin Moriarty), the girl Joe and Patrick fight over.
Considering this is a Sundance coming of age story about three boys who move into the woods, you think there will be lots of slow shots of nature and brooding about what it's like to become a man. And there is that. But what makes this movie brilliant is the zippy one-liners, the genius comic timing, and the inventive situations that these quirky but endearing characters find themselves in. It's like one of those smart stories about rites of passage, but with amazing jokes. Imagine if Porky's if it bothered to read the articles in Playboy and you'd have this movie. Especially when things go awry with the house and the allegiances of friends and family are tested.
The MVP is Offerman, who plays a similar but more verbose version of his Parks character and whose every line of dialogue is a stinging zinger. It's enough to drive his son out of the house, but makes the rest of the audience howl. Mullally is also great, playing a version of everyone's mom who leaves embarrassing notes in your lunch and won't leave you alone about taking your shoes off at the front door. Arias is a revelation, playing a honor-bound oddball to great effect (if only he were tall enough to be cast as something other than a teen).
The young cast is also stellar, but the real credit belongs to director Jordan Vogt-Roberts and writer Chris Galletta. They have made the rarest of things, a teen comedy that is a sweet as it is amusing, as true as it is charming, and as beautiful as it is funny. I promise when it makes its way into theaters (and it just scored a distribution deal) I'll be back to see the whole thing in its entirety and live like a teenage boy once more.
Follow Brian Moylan on Twitter @BrianJMoylan
[Photo Credit: Toy's House Productions]
More:
Shia LaBeouf's Indie Career at Sundance Is Off to an Awful Start
The First Movie Based on a David Sedaris Story Shows Words Should Stay on the Page
The Amazing Sundance Movie That Disney Will Never Let You See

100 Hottest Women of the Century: Do You Agree?