NY1 Anchor Pat Kiernan on the Challenge of Playing Pat Kiernan in 'Iron Man 3'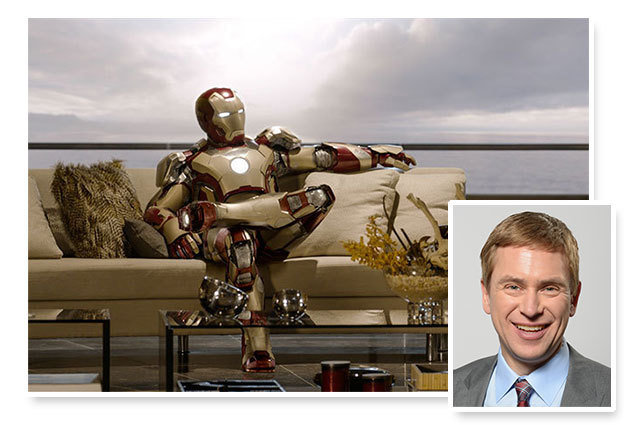 Every town has its star news anchor. For New York City, it's Pat Kiernan.
After climbing the ranks in the broadcast news world, Kiernan landed at New York's NY1 where he turned morning news into must-see television. His presence and popularity saw him plucked from his tri-state area role for national ventures, including VH1's cult favorite trivia show The World Series of Pop Culture. Hollywood has taken notice of the Kiernan charm: when a blockbuster movie needs a convincing talking head to deliver shocking/absurd/warm and cuddly news, they turn to the NYC staple. With both The Avengers and this past weekend's Iron Man 3 under his belt, Kiernan is basically a superhero in his own right.
"I made a decision years ago that I'm not interested in chasing generic 'Reporter #2' roles," Kiernan says of his acting career. "I'll play Pat Kiernan as himself if that fits into your movie. If your movie is set elsewhere and you're looking for a reporter, you'll have to find somebody else. It eliminates the need for auditions. The audition is on TV every morning."
When a movie like Iron Man 3 wants Kiernan to film a news segment, the production is first vetted through the NY1 team. Is it a movie that New York 1 would have any embarrassment from being involved in? Is the NY1 character behaving in a way that he might if the circumstances were real? When the channel gives approval to the production's request, the notes are passed on to Kiernan, who takes on the role of script doctor before reciting his lines on screen.
"Generally they write a script and typically I rewrite it," Kiernan says. "Unless I find what they wrote to be implausibly bad, I'll typically read theirs and give them an alternate version. If you agree with my version after seeing it, please use that one in the movie. If you don't, I'll consent to the version you wrote. We'll give an alternative version I've tinkered with. How I would say it in my voice. How NY1 would say it."
The case of Iron Man 3 was pretty straightforward: receive the script, make a few minor changes, record the segment with the regular NY1 crew, then send off the tape to the folks at Marvel. There have been times that required more from Kiernan.
"The late Sydney Pollack and I sat down for 20 minutes and hashed out my lines for The Interpreter," he says. "He came in with a yellow lined pad with lines scribbled on it and said, 'These are the lines I need to get across.' And the two of us sat down and worked through the script. 'Here's how I would say that.' It was an amusing moment because he and I were sitting on his couch and his staff was kind of lurking. Afterward, when he left, they said, 'Usually what happens around here is when Mr. Pollock says, 'Here's how I want to do it,' everyone says, 'Yes, Mr. Pollock.' Not, 'Here's what I suggest.' He obviously respects your opinion.' They were a little taken aback when I suggested we rewrite the script."
Kiernan isn't a trained actor, but he does believe reading the news for a movie requires "acting." Whether he's telling the folks of New York that authorities have discovered dinosaur tracks on Central Park West for Night at the Museum or announcing that the world is coming to an end for 4:44 Last Day on Earth, the quick bursts of news footage we see in bombastic action movies require a delicate touch.
"You kind of have to pull whatever acting skills you have to put yourself in the moment. Trying to have the right combination of intensity and energy and sorrow and excitement and whatever else you need." Kiernan relies on the same Strasbergian acting techniques when it comes to the actual news. "What I do every day is a performance. It's not impossible for me to get to the space that I need to get to for these movies."
Kiernan's career outside of NY1 shows no sign of slowing down. On the movie side, he'll next be seen in the Liam Neeson thriller Non-Stop in a two-way interview scene that involved working with director Jaume Collet-Serra. And while World Series of Pop Culture won't be returning anytime soon (Kiernan says VH1's wave of reality television drowned the popular trivia show back in the day and there are no plans to resurrect it) he does have a new game show primed and ready for consumption. On May 14, Kiernan will headline CNBC's Crowd Rules, which features three small businesses competing in front of an audience of 100 that votes to decide who wins a much-needed $50,000 prize. Kiernan is the resident interrogator — a challenging performance he's ready to tackle.
As long as they'll have him, Kiernan is up to the task of lending his news skills to comic book movies, game shows, and everything in between. After years of sending in tapes of fake segments, he's never had one sent back. "I think NY1 is an identifiable New York City brand. So when we're willing to play ball with productions, they see that as adding authenticity to the film. We've got a pretty good track record of convincingly doing whatever they ask for."
Kiernan can currently be seen on the big screen in Iron Man 3. His show Crowd Rules premieres May 14 at 9pm and you can see him deliver real news each morning on NY1.
Follow Matt Patches on Twitter @misterpatches
More:
Kingsley Dishes on The Mandarin's Big Twist
The Blink-and-Miss'em Cameos of 'Iron Man 3'
Guy Pearce Turned Down 'Daredevil' But Embraced 'Iron Man 3'
---
From Our Partners:


What Happened to 33 Child Stars (Celebuzz)


40 Most Revealing See-Through Red Carpet Looks (Vh1)