Paul Attanasio Seizes 'Scarface' Remake Script — Which Tony Montana Gems Will Return?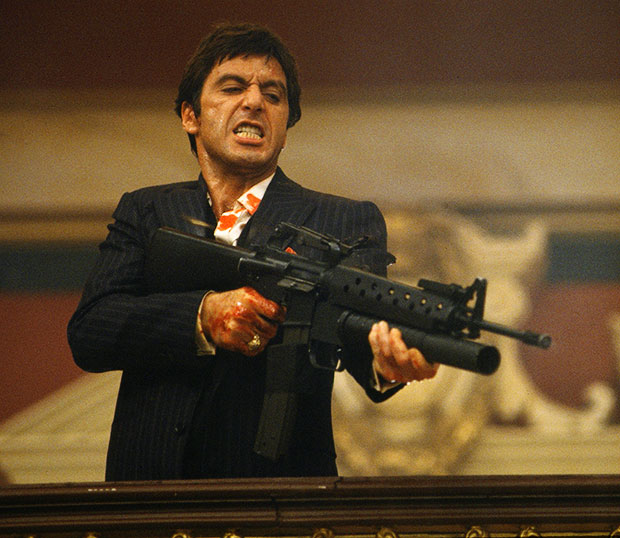 In this country, you've got to make the Quiz Show first. And then when you make the Quiz Show, you get the Donnie Brasco. And then when you make the Donnie Brasco, you get the Scarface. There are also a few Good Germans in there somewhere, but you get the gist. Deadline reports that screenwriter Paul Attanasio is being tasked with rewriting the script for the developing Scarface remake.
The accomplished writer/producer — who in addition to the listed titles has also worked on Homicide: Life on the Streets and House — will be taking scripting responsibilities from David Ayer, the writer of Training Day and the recent release End of Watch. Ayer's well-received credits aside, Attanasio does seem more fit to take on a project like this. His films have exhibited the cultural gravity and extensive scopes befitting a retelling of Tony Montana's story. But how much of the Brian de Palma classic should be recreated in Attanasio's script?
The 1983 film's script, written by wordsmith Oliver Stone, consists of an army of memorable one-liners. In fact, Scarface is a movie more substantially defined by its individual lines and speeches than many of its peers, leading to a plausible dilemma in terms of a remake. Some of these recognizable bits of dialogue would be easily conducive to reproduction in a film with a dissimilar perspective — for instance, Michelle Pfeiffer's forewarning: "Don't get high on your own supply." But then there are those far too entrenched in the highly specific, gritty mood of de Palma's Scarface, i.e. star Al Pacino's, "This town is like a great big p**** waiting to get f***ed." Not nearly as malleable; Attanasio's incarnation of Montana would have to be pretty in line with Stone's in order to pull that off, provoking the question of whether or not a remake that identical to the '83 picture is accomplishing anything new.
Topping the list of memorable Scarface lines is of course, "Say hello to my little friend!" A catchphrase that simultaneously has to be in the new movie and can't be in the new movie. How could they possible get it right? How could they possibly avoid it? Wouldn't it soften the blow to recreate such a cinematic scene, and build toward a derivative final product? Tackling a tagline like this, as well as other specific memorable components of Scarface (the mountains of cocaine, Montana's fall to his death, the tiger), will be difficult dealings for any screenwriter attempting a remake. Maybe that's why they had to bring in a new one…
[Photo Credit: Universal Pictures]
More:
Amy Adams and Lee Daniels Join Janis Joplin Biopic Race
'Carrie' Carries the Torch of the '76 Original as Carrie Torches City — TRAILER
NYCC 2012: Bruce Campbell Hopes People Walk Out of the 'Evil Dead' Remake