Yes, Penn Badgley is Actually Impressing Us as Jeff Buckley — VIDEO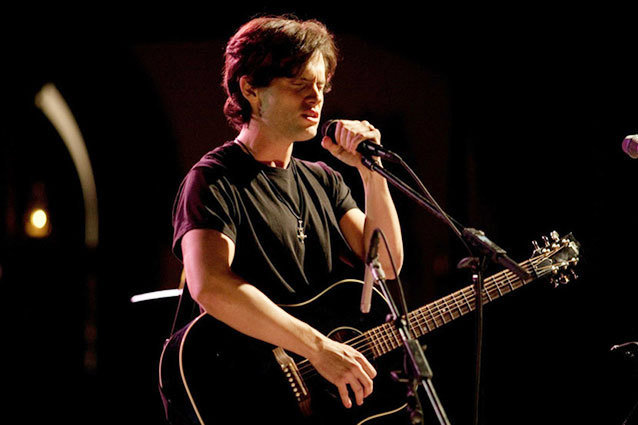 Playing a musician on screen can be difficult. Especially when its as storied and revered a character as the late Jeff Buckley — a person who, even in death, has a fanbase that's beyond protective of and critical of all attempts to imitate the legend. I know, because I'm one of them.
Hearing the news that Lonely Boy himself — better known as Penn Badgley to all those who didn't frequent the world of Gossip Girl — would be taking on the role of a young JB in Greetings From Tim Buckley  (one of two Buckley pictures in the works), fans were rightfully skeptical. How could a teen dream with a penchant for play-drama actually handle the beloved Buckley? His story was tragic, but more impressive still were his vocals: the man could sing the chastity belt off a medieval princess. All at once ethereal, emotive, sensual, unruly, and acrobatic, Buckley was more than just another dude with a guitar: he was a melodic racounteur rife with feelings.
RELATED: Penn Badgley Channels Jeff Buckley in NYC
Back in August we were treated to the first glimpse of Badgley's musical transformation. And we were…surprisingly (albeit apprehensively) impressed. And with this second clip from the new film, we are officially on board the Badgley train. Performing "Once I Was" — the first tune ever performed live by the younger Buckley, and written by the elder — during a tribute concert to the father he never really knew, Badgley's Buckley is spot-f**king-on. He hits riffs and digs deep into himself to find a version of Buckley's vocal hold so close that we'll take it. The boy's got chops, who knew, eh?
Check out Badgley's version of the song (and the original recording of Buckley himself) in the videos below.
RELATED: Lonely Boy to Play Jeff Buckley in New Biopic
It feels safe to say that Badgley's musical performance (at least) is great, and will no doubt lead to many an accolade (and maybe even a bit more credit than he's gotten in the past) once the film arrives, putting him in an elite class of actors who got it right.
Greetings from Tim Buckley does not yet have a release date in the US, but follows the days in Jeff Buckley's life leading up to his first-ever live performance in 1991 in New York. How do you think Badgley handled the performance? Sound off in the comments!
[Photo Credit: Tribeca Films]
Follow Alicia on Twitter @alicialutes
---
You Might Also Like:


15 Oscar-Winning Nude Scenes


10 Insane 'Star Wars' Moments You Didn't Notice