'Percy Jackson' Getting A Sequel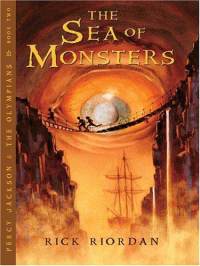 Percy Jackson and the Olympians: The Lightning Thief — a.k.a. that Harry Potter knock-off that took "wizardry" and changed it to "Greek Mythology" — might have a sequel in the works, according to the LA Times (who cite a "person who has been briefed on the project's status but was not authorized to speak publicly about it.") The report says that the sequel will be based on the second book in the five part series called The Sea of Monsters. Fox 2000 has hired Agent Cody Banks writers Scott Alexander and Larry Kraszewski to adapt the Rick Riordan novel, but Chris Columbus — who directed the first film — is not expected to return as director.
For those unaware, the story follows a boy named Percy Jackson — a normal kid who discovers that he's the son of the Greek God Poseidon. He quickly learns that many aspects of Greek Mythology are real. Hopefully, these two films will lead to the boy's realization that he's actually a world-class swimmer, spawning a third film called Percy Jackson and the Olympians: Syyyke! I'm Actually Michael Phelps.
Source: LA Times