'Perks of Being a Wallflower': What We Learned on Set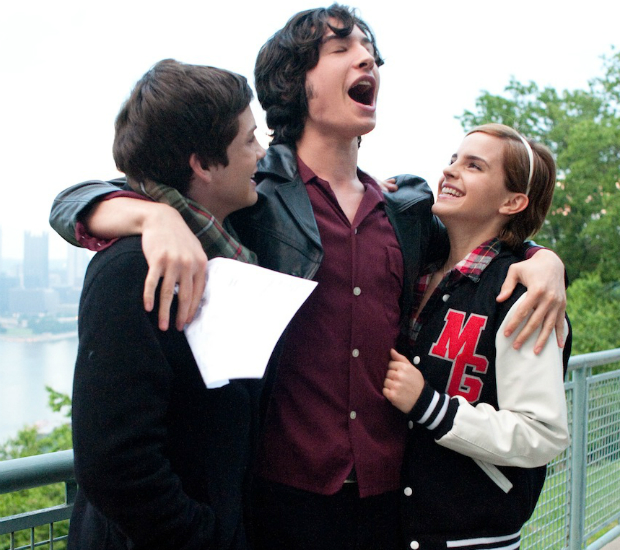 Adapting a beloved, obsessed-over novel is never easy, but it's infinitely interesting when the person doing the adapting is also the author of that beloved, obsessed-over novel. That was the case for September's The Perks of Being a Wallflower, and thanks to a quick trip to Pittsburgh, where Emma Watson, Logan Lerman, and Ezra Miller were filming the flick, Hollywood.com got a look at what that process looks like.
It was a muggy, overcast Pittsburgh day when myself and a group of journalists piled into a van and made our way to Peters Township High School, where Watson, Lerman, Miller, Mae Whitman, Nina Dobrev, Dylan McDermott, and Kate Walsh were filming their characters' high school graduation under the watchful eye of writer/director Stephen Chbosky. From the sound of Watson's surprisingly accurate American accent peeping through our headphones when filming began, to the fake snow puddled around the wheels of a school bus for another scene, the high school was all movie set. But from the crowds of local teens set up as extras, the proliferation of red and white balloons all over the football stadium, and a general air of excitement, Peters Township was all high school. The setting couldn't have been more perfect — after all, Pittsburgh and its surrounding suburbs are where Chbosky grew up and where his novel takes place.
In case you were not a teen in 1999, it might be news to you that The Perks of Being a Wallflower was a life-affecting book for many of its stalwart fans. It follows the story of a young, socially-challenged teenager named Charlie (Lerman, in the film) and is told through a series of his letters. After enduring the aftermath of his friend Michael's suicide, Charlie seeks refuge with two seniors, Sam (Watson) and Patrick (Miller). The candidly mature book is sure to beget a similarly dark film that fully explores Charlie's introvert nature, variant issues regarding sexuality, and the very foundations of friendship itself, but what fans are really worried about is how closely Perks will resemble the book they all loved. While my experience of the set was largely joyous, as the scene at hand was filled with all the jubilance that goes with a graduation, the actors and director assured us that the film doesn't stray far from its darker, contemplative roots.
It was at this school, hand-picked by Chbosky and nestled among rolling green hills, where we learned a few valuable lessons about the film.
1. The movie is not an exact translation of the book, but it is faithful.
For fans who worry that the film won't match up their expectations, we offer Chbosky's original intentions for the story: "I've wanted to make this movie—I first thought of the title of the movie twenty years ago this fall. The title of the book and movie. And so, I always felt it would probably be both," he said in the library of Peters Township High. In fact, Chbosky says there are very few changes from the book, aside from the aspect of telling the story through letters only.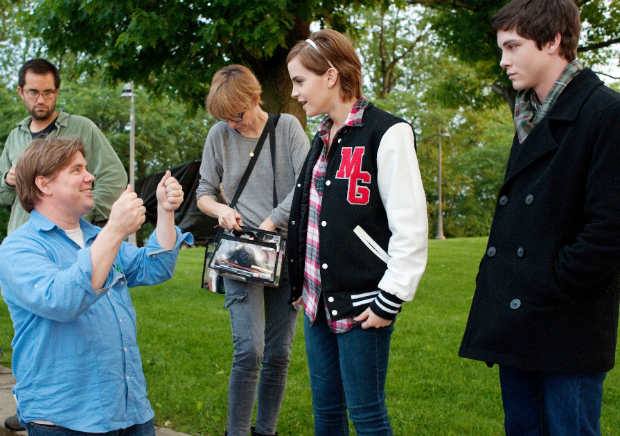 "I wrote the book as a series of letters because I wanted the reader to feel very intimately connected to Charlie. So, it was finding a point of view from the film that would lead to the same connection. And luckily, with Logan Lerman, it's not very difficult to get that sense of connection," said Chbosky.
But it's not just the element of translating the book for film. Chbosky used a few locations in his hometown of Pittsburgh that meant a great deal to him as a teen, adding a layer of realism. For a scene that takes place during a showing of Rocky Horror Picture Show, the film makes use of the first place Chbosky ever saw the play, as well as a few other spots that are meaningful to the writer/director. "And so, going back there, twenty-five years later, was incredibly meaningful. I loved it. I love filming here at Peters Township. I love filming at Kings, where my parents eat breakfast three times a week. Where else?" he said. It doesn't get much more authentic than filming a movie about adolescence in the place where the writer grew up.
2. '90s fashion a huge part of the film. And it's awesome.
Mae Whitman, who plays Mary Elizabeth in the film, gets to rock the '90s punk look, so much that the costume designer admitted he was afraid she'd steal her wardrobe. And she'd have good reason. "[Costumes are] such a fine part of creating a character, but also letting the actor think they're creating the character as well, and being comfortable with that. And [our designer] really did an amazing job," she said. But it wasn't simply a one-way process.
Watson told Hollywood.com that many of her wardrobe pieces were her own, but she was intimidated by her character Sam's need for "great style." (Right, like Watson could ever want for a stylish air.) "A lot of the clothes are actually my clothes. I'm actually wearing one of my grandmother's dresses, which I got altered … Sam's style is very interesting. There's a couple of looks that have been interesting for me to wear, because they're very all-American. I'm like, 'Wow, if my friends could see me now,'" she giggled.
3. Yes, the cast really are best friends.
"I can't put one as like, being my best friend on the shoot. I love all these guys. [We're] really close friends now," said Lerman. And it showed. Every second in between shooting, the entire cast, from Watson to Lerman to Dobrev and Miller, were joking with each other and palling around like they'd actually survived the terrifying high school experience together.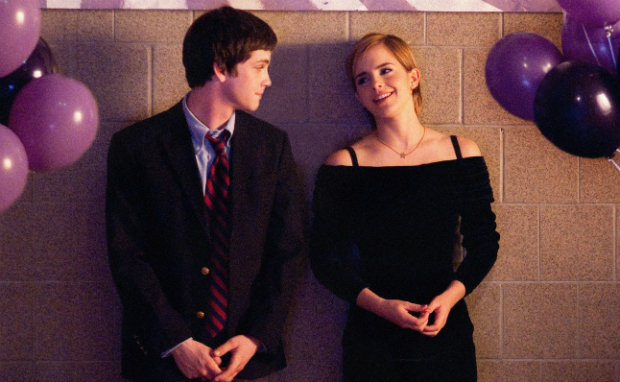 4. And they all L-O-V-E Emma Watson.
Seriously. Every single actor, crew member, and Chbosky himself couldn't stop gushing about the former Hermione Granger. "She's blowing people away with her performance," said Lerman. And Miller had so many wonderful things to say, we have to off-set it in its entirety:"They should have thrown me someone a little harder to handle so it could have been a bit of a challenge. Emma's one of the most severely mind-blowing forces of my peer group in acting right now. Based on what's come before this, people just have no idea what she's capable of. She has become in these short weeks one of my dearest friends. I think that will be the case forever. And she is the type of artist who is going to make her true self known in time. I personally look forward to watching an entire population of Harry Potter fans get their minds twisted into small pretzel-ish knots over what this girl can do."
5. …And Harry Potter.
Like everyone else in the world, the cast of Perks are Harry Potter nerds. Whitman even puts the series on par with her first love: "I guess it would be either that or food. Just food in general. The two things I love the most are Harry Potter and food." And of course, not to be outdone, Miller professed his love for the series like only he can: "I read Harry Potter like scripture … that book strikes the core of human beings all over this world for a very specific reason, which is that we all feel, innately, that we are capable of very, very, very wonderful, magical things." Alright, who feels like giving the series another read right about now?
6. Emma Watson is a total rebel.
One of the most iconic scenes from the book involves a rather dangerous stunt in a car driving through a tunnel, but it's something most famous actors probably wouldn't risk. Watson isn't most famous actors. "I was not meant to do it at all. I begged Stephen … I ended up doing it like, seven or eight times. The car was going fifty or sixty miles an hour," she said as we all waited with baited breath. "I had one string.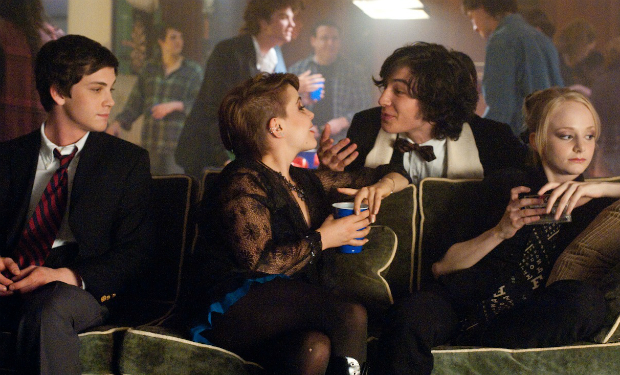 Hands in the air, all the way through the tunnel, coming out the other end. The first time I did it, I was so emotional, I cried. I was really, really special. And seeing the shot, what it's going to look like—it's going to blow your mind. I don't want to build it up too much, but it's stunning."
7. Logan Lerman is more perfect for Charlie than you might think…
Charlie's social awkwardness is a reason many young readers identified so greatly with the book, and luckily for them, Lerman did too. "I guess I wasn't as naïve as him, but I definitely had the morals that he has … A lot of the experiences, or a lot of the situations in the script, have actually happened to me in life, so I just connected with him," said the actor.
8. Ezra Miller is very proud of his beloved character.
Miller's character Patrick is iconic for many readers in that he is openly gay and struggling with the close-minded world's reaction to something that's so inherently a part of his identity. Still, Miller insists that Patrick may identify himself as gay, but it doesn't define him. "I remember reading Patrick and realizing, 'Oh no, this character has no basis in being gay,'" he said. "He is a fully-formed being, and that is an aspect of him. As it is an aspect with us all (our sexuality). It's not a defining quality. It's just one element," Miller added.
9. We wish we were in this movie.
Watch any preview or scene from Perks and it's obvious the actors were having a great time working together. But for them, it was more than that. They were taking part in something that Chbosky has been building up to since he was a teenager. And that element really made the film an incredible experience for the young actors, especially Watson. "[Stephen] really cared about all of us having a good time. He said that at the beginning: 'I want you to have the summer of your lives.' And I absolutely did," she said, with a grin that stretched from ear to ear.
The Perks of Being a Wallflower hits theaters Sept. 21 in limited release. Will you be seeing it?
Follow Kelsea on Twitter @KelseaStahler