Peter Jackson Officially Confirms Orlando Bloom's In 'The Hobbit'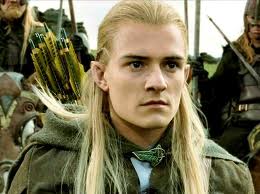 Today, in news that broke months ago but is just being confirmed now, Orlando Bloom has officially joined The Hobbit, according to the source of all great things on the internet, Peter Jackson's Facebook account. Jackson took to the internet just a few short moments ago to share the news, which we originally heard back in December.
"Ten years ago, Orlando Bloom created an iconic character with his portrayal of Legolas. I'm excited to announce today that we'll be revisiting Middle Earth with him once more. I'm thrilled to be working with Orlando again. Funny thing is, I look older—and he doesn't! I guess that's why he makes such a wonderful elf."
Ha! Oh, Jackson, you crazy jokester. Anyway, we know that's a bit of a lie since Jackson's lost about 100 pounds since the first trilogy. But regardless, we're officially happy that we're going to officially see Legolas again. Officially.
Source: Peter Jackson's Facebook