Peter Weller aka RoboCop Cast in 'Star Trek 2'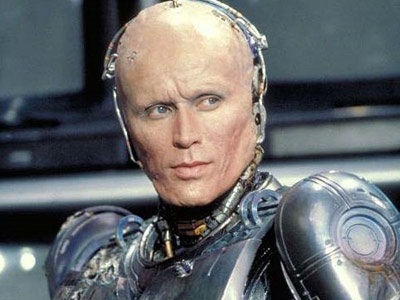 I'm trying to think of a portmanteau for "Bad Robot" and "RoboCop" in celebration of this new casting development for Star Trek 2, but it's all just coming out clumsy.
Moving right along, then: Peter Weller, the man/machine who portrayed the title character in RoboCop and its forgettable sequel, has been cast in J.J. Abrams' second Star Trek film, joining the ranks of Chris Pine, Zachary Quinto, Benicio Del Toro and new castmember Alice Eve.
In addition to protecting the innocents, Weller is also recognizable for his more recent television work, including playing 24 character Christopher Henderson and a recurring role on Dexter as disgraced cop Stan Liddy.
It's kind of funny that Weller is joining Star Trek 2, considering the news earlier this summer that a RoboCop reboot was underway, and was actually seeking Chris Pine (who played Captain Kirk in the 2009 Star Trek film, and will do so again in this sequel) to star. The worlds of RoboCop and Star Trek are melding, almost to a point where we won't know for sure which movie we are watching at any given moment! It's chaos, yes. But it's the best kind of chaos. A chaos wherein two science fiction franchises of past and present will join forces to engulf the world entirely, dragging the lot of us straight into the story, where we are destined to remain forever.
The Star Trek sequel is slated for a May 2013 release…so, make sure you learn your lasers by then. These movies have lasers, right?
Source: Variety