'Pirates' Tops Weekend Chart, Posts Int'l Record!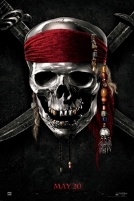 Disney's Pirates of the Caribbean franchise is one of the most successful of all-time with the first three films earning a global total of $2.7 billion.  Pirates of the Caribbean: On Stranger Tides opened in 4,155 theaters earning $90.1 million for the weekend after $4.7 million in midnight screenings. The first Pirates movie to be released in IMAX and 3-D, On Stranger Tides follows in the very large footsteps of its predecessors and shattered IMAX's global record with $16.7 million in 394 theaters and a whopping $61,000 per screen.  On Stranger Tides posted the biggest international debut of all-time with $256.3 million and the 4th biggest global opening of all-time with $346.4 million.  Johnny Depp proves the continued popularity of his iconic Capt. Jack Sparrow character while Penelope Cruz clearly added to the global appeal of this important franchise.
Strolling down the aisle in second place with $21 million is the Judd Apatow produced female-driven comedy Bridesmaids from Universal.  As one of the strongest word-of-mouth movies released this year, the R-rated and raunchy sensibility of the film boosted it to first place in the mid-week box office top 10.  Starring Kristen Wiig and Maya Rudolph, the film's appeal to both men and women looking for edgy summer fun at the multi-plex was realized in a mere 20% second weekend drop and a domestic total to date of $59.5 million.
Paramount's Thor has been a box office God having topped the chart for its first two weekends and thus proving the continued drawing power of super heroes in the summer.  Boasting a terrific ensemble cast and director Kenneth Branagh known more for his Shakespearean endeavors at the helm, this above average effort has generated solid buzz among audiences and a 3rd weekend gross of $15.5 million and domestic total of $145.4 million.  
Universal's Fast Five refuses to leave the top 5 and has been in the driver's seat for a month building on continued support from audiences that cannot get enough of this hyper-kinetic popcorn epic.  An impressive fourth place 4th weekend finish with $10.6 million, the film is making a fast and furious run toward the $200 million mark at the domestic box office.
The very popular and angry birds of Fox's Rio did battle with Sony's Priest to take 5th place with a gross of $4.65 million.  Rio enters its 6th weekend of release having dominated the family film marketplace since its debut while Priest is movie catnip for the fanboys coming in just $50,000 behind Rio.
Last year's comparable weekend saw the $70.8 million debut of Shrek Forever After and a solid 3rd weekend for Iron Man 2.  However, this weekend's top 5 led by Pirates gave us our 2nd consecutive up weekend at the nation's theaters.
Weekend Box-Office Estimates
Top Movies – For Weekend of May 20, 2011
    Movie     Weekend Gross     Total to Date
1     Pirates of the Caribbean: On Stranger Tides (PG-13)     $90.1M     $90.1M
2     Bridesmaids (R)     $21.1M     $59.5M
3     Thor (PG-13)     $15.5M     $145.4M
4     Fast Five (PG-13)     $10.6M     $186.2M
5     Rio (G)     $4.65M     $131.6M