'Pitch Perfect 2'? Rebel Wilson and Her Costars Share Their Ideas for an Aca-Sequel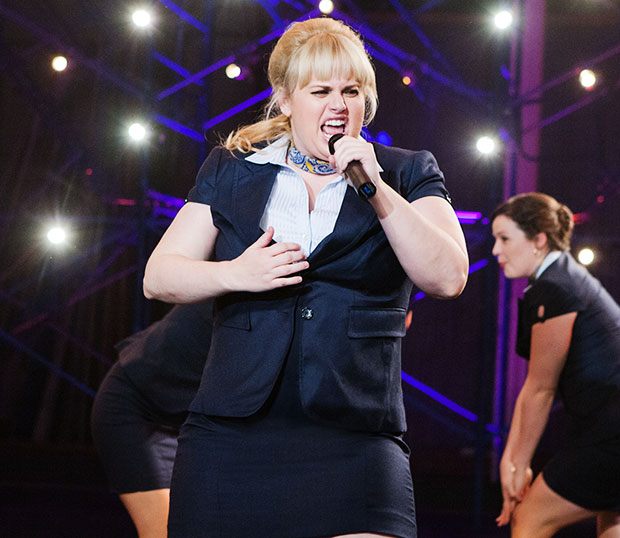 Put down your microphone, stop that mermaid dancing, and get excited for some aca-awesome news: Universal Pictures is reportedly in talks to create a Pitch Perfect sequel starring breakout actress Rebel Wilson.
According to MovieWeb, the musical comedy's leading man, Skylar Astin has also been approached to take part in a second onscreen a capella adventure. "I do have a meeting with a Universal representative next week. And I know that Rebel Wilson had hers last weekend. It's definitely a talking point," Astin said to MovieWeb. The 25-year-old actor revealed he's confident a sequel will make just as much of a musical splash as the first film, saying, "I think they did such a perfect job. The music landed so perfectly when it came out the first time, I can't imagine, if the same people are involved, that lightning won't strike twice. I will sing whatever they want me to sing."
RELATED: Pitch Perfect: Why 'Glee' Fans Should Give It a Chance
Fans were intrigued when the summer smash Pitch Perfect ended with a minor cliffhanger. For those of you who were busy seeing The Avengers for the 27th time, we'll catch you up: Anna Kendrick's character Becca decided to stay at Barden University for another year and The Bellas — the victorious all-girl a capella group — are now the top club on campus. We last saw The Bellas at the following year's a capella auditions. Right before Becca was to announce the song choice, the screen cut to black. This rather abrupt ending led audiences to wonder, what is next for the Barden Bellas?
Well it seems that Hollywood.com needs to start buying lottery tickets, because we can predict the future. Earlier this summer, we had the pleasure of sitting down with the stars and director of the hit musical-comedy, and we had one thing on our mind: What would you like to see in Pitch Perfect 2?
With stories ranging from an Australian adventure, to a new-found romance, Wilson, Astin, Kendrick and more revealed their hopes and dreams for a second Pitch Perfect. Read on for all the hilarious sequel suggestions!
Rebel Wilson and Adam DeVine: Tale of Love and Lust
Many fans loved the quick-witted interactions between rivals Fat Amy and Bumper, however Adam Devine reveals that a sequel could explore the softer side of the two characters. "There's a lot of sexual chemistry between the two of us and backstory that we didn't really get to in the film, because it's only two hours. It could have been an opus, it could have been nine hours where you really delve into our relationship."
Rebel Wilson agreed, "It could've been the Bumper and Fat Amy show but they said, 'Oh no. Anna Kendrick has been nominated for an Oscar she should get the main love story.'" Not going to lie, we would pay a lot of money to see that movie. Especially since DeVine described it as a "deep dark, emotional tale of love and lust and loss." Sounds aca-mazing!
Skylar Astin and Anna Camp: Acapulco Adventure
"There's only going to be a sequel if this girl is involved," Astin revealed with a smile about his co-star Anna Camp. "That's the only way I'll do it." But Camp was quick to explain the small problem with that plan: "But I graduate!" Yes, it's true. Camp's character, Aubrey, was not in the final scene of Pitch Perfect. However, the actress has a plan to be involved in the second flick, despite her alumni status. "I think we need to go on on a European mega a capella world competition. International style," Camp said. To which Astin added with a laugh, "And we'll film it in Acapulco."
RELATED: Rebel Wilson and Adam DeVine Plan the Sexy Sequel to 'Pitch Perfect'
Anna Kendrick and Brittany Snow: Bring in the Pros
Right away, Brittany Snow expressed her concerns regarding a second movie. "I kind of hope that there is not a sequel that starts right where it left off, because Aubrey and Chloe are not there, because we graduated… You can't make it without Aubrey and Chloe!" Snow exclaimed. Not to worry Bella fans, Kendrick was prepared with two suggestions to include the whole cast. "I think you come crawling back, I think you're like super-seniors, like five-year seniors. You just didn't graduate," Kendrick explained to Snow. However we're keeping our fingers crossed that this second option makes it to the big screen: "You guys are the ones that have like an uncredited appearance." The actress continues, "We don't tell anybody that you're in it, and then like at the last second, we're like, 'We need to call in the pros!' And then it's like in Wedding Crashers when Will Ferrell comes down the stairs."
RELATED: Anna Kendrick and Brittany Snow's Adorably Awkward 'Pitch Perfect' Interview
Director Jason Moore: Pitch Perfect Down Under
When asked about the movie's cliffhanger ending, Pitch Perfect director Jason Moore explained "You know we haven't talked about a sequel, and it does kind of end in a cliffhanger way. We didn't intend it to necessarily, but I can see how people would think that. But if people like it, maybe we'll see more of Becca and Fat Amy." Seeing these two ladies leading The Bellas to a sophomore victory would surely be hilarious, but does that mean the past seniors are gone for good? Inspired by Camp's suggestion for an a capella world tour, Moore was quick to think of a way to bring back the graduates. "Now we need a [professional] a capella group if we need Chloe and Aubrey to come back." Moore pondered, "Fat Amy is from Australia, and it makes me think that we need to go full international."
Fans can now pick up their copy of Pitch Perfect on DVD and Blu-Ray in stores and online.
Which sequel idea do you prefer? Sing us your thoughts in the comments below!
Follow Leanne on Twitter @LeanneAguilera
[Photo Credit: Universal Pictures]
---
You Might Also Like:


'Twilight' Meets 'X-Men'?


14 Movies That Are, Surprisingly, Not Porn