Pitch Perfect: Why 'Glee' Fans Should Give It a Chance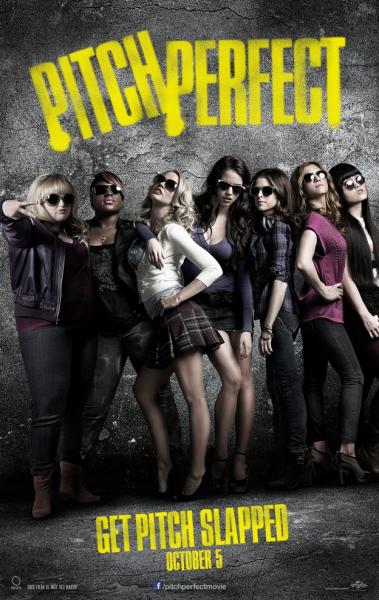 All right Gleeks, we need to talk. Let's reminisce together for a moment.
Remember way back when in season two when we got our first glimpse of the Dalton Academy Warblers? We saw a sea of navy blue and crimson suits swaying back and forth while Darren Criss, adorable smile and all, sang a beautiful musically-stripped down version of Katy Perry's "Teenage Dream." Every girl and their gay best friend flooded the Internet with their "ooh's" and "ahh's" of admiration for this thing called a cappella and we'll admit we too were thrilled by its resurgence as the new cool trend.
Although a cappella, is far from being considered "new," there is something awe-inspiring about music that requires no instruments or synthesizers, only the sounds that can be naturally created through our mouths. So imagine our genuine squeals of excitement when we learned that there is a new movie out that has linked the unique skills of a cappella singing with a group of highly relatable (and not to mention attractive) new characters.
Pitch Perfect combines the underdog essence of Glee, the high stakes spirit of Bring It On, the snarky yet quotable-ness of Mean Girls and the 80's-loving nostalgia that Easy A was built upon. Basically the musical geniuses who created Pitch Perfect have grabbed bits and pieces from our favorite DVD-worthy movies and remixed them into a refreshingly harmonious new flick.
From the hilarious audition scene, the new staple in practically every teen movie, to Torrance Shipmans's cheer-tastic inspired "aca"-isms, (i.e. Aca-cuse me? Hands in aca-bitches! Aca-awkward…) Pitch Perfect creates a flawless big-screen option for the millions of Glee lovers out there. This movie not only acknowledges our guilty pleasures, it encourages them! Case in point: When the Bellas, aka the musical heroines of the film, sing Miley Cyrus' "Party in the USA" you can't help but smile. We can thank the summer of 2009 for bringing forth the song that is so bad it almost hurts, yet every one knows it's nearly impossible not to belt out those oh-so catchy lyrics when we're driving alone in our cars.
For those of you that are still holding an aca-grudge and are worried that this movie is trying to steal Glee's thunder, by all means please read on. This movie is not Glee. However, it does celebrate all the quirky and fun characteristics that have made the FOX show a mega-hit over the past three years. Pitch Perfect contains an entire season's worth of the excitement surrounding sectionals, regionals and nationals, but neatly jam-packs the drama into 112 minutes. The soundtrack features a perfect blend of top 40 hits with a few well-placed gems from the 80's and 90's sprinkled throughout. In addition, the film showcases 7 brilliant mashups, a musical feat that all Glee fans can appreciate and enjoy.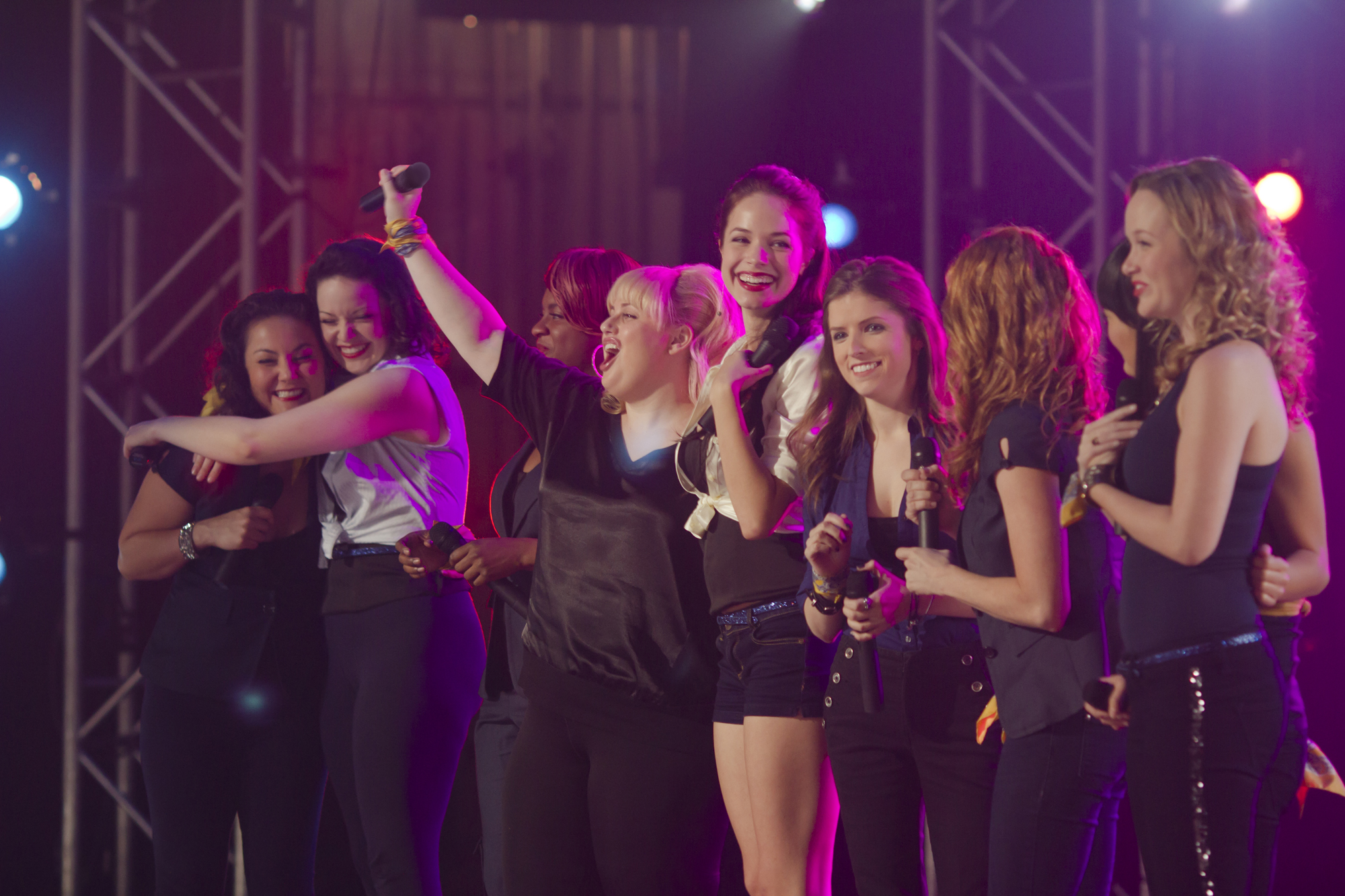 Gleeks will come to the theaters for the concept but they'll stay and smile because of the characters. But not to worry, there are no McKinley copy-cats in this cinematic adventure. We can assure you that you won't be sitting in the theater thinking to yourself, "Oh there's Kurt…I guess she's the "New Rachel"… And seriously that girl is acting just like Brittany!" Instead you will find a healthy blend of grounded yet charismatic college students who have banded together in hopes of being the best. Yes, that does sound a little Glee-esque, but the characters are much more complicated then that.
The movie centers on Beca (Anna Kendrick) an edgy, and slightly snarky aspiring deejay who would much rather be scrumming it in Los Angeles than getting a free-ride to the college where her dad teaches. After being forced to partake in an extracurricular activity, Becca decides that joining the Barden Bellas, an all-girl a cappella group, is the lesser of many evils.
The Bellas feature a typical ragtag group of gals who, after a rough start, come together to be sensational. Gleeks, think The Troubletones but with a college twist. (Oh yeah, it's that good!) Every one of the Bellas has their little something that makes her special. Chloe (Brittany Snow) is the keeper of the peace, Stacie (Alexis Napp) is the sex-crazed E! enthusiast, Lilly (Hana Mae Lee) is the soft-spoken psycho, Cynthia Rose (Ester Dean) is the girl who likes girls, and leading the pack is the tyrannical Aubrey (Anna Camp) who should really take the phrase "say it, don't spray it" more seriously. Oh and who could forget Fat Amy (Rebel Wilson)? The self-proclaimed best singer in Tasmania who enjoys mermaid dancing, bikini carwashes and stealing the spotlight.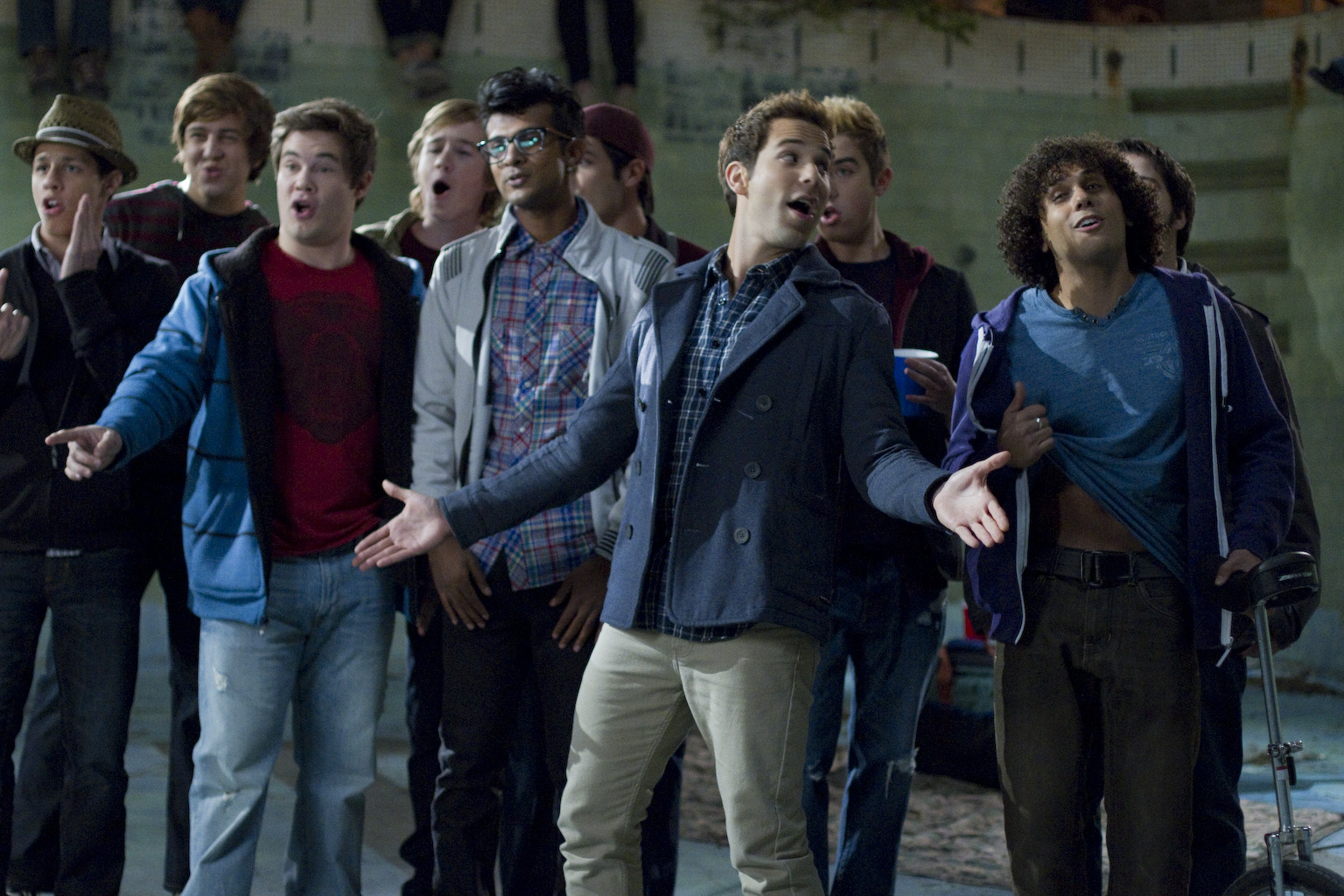 Leading the Bella's cross-campus rivals, The Treblemakers, is Bumper (Adam Devine) a highly sarcastic, self-obsessed, burrito thrower and Jesse (Sklar Astin) the swoon-worthy new addition to the group who is down to earth and oozes loveable yet dorky charm. Oh and in case you were ever wondering what happened to Superbad's McLovin (Christopher Mintz-Plasse) in his college years, this movie has the hilarious answer. When the two groups go head-to-head multiple times through-out the film, many Lima lovers will wish the New Directions would have more interaction with their rivals because the result is side-clutching, can't catch your breath laughter.
All in all, Pitch Perfect is a wonderful celebration of music and is pure movie-going pleasure. Curious viewers can consider this new insta-classic to be in the same key as Glee, but keep in mind Pitch Perfect is strumming on a completely separate, yet equally delightful chord.
Pitch Perfect opens in select theaters Friday, September 28 and everywhere else October 5.
Follow Leanne on Twitter @LeanneAguilera
[Photo Credit: Universal]
MORE:
'Pitch Perfect': Meet Aubrey, the Militant Choir Leader — EXCLUSIVE VIDEO
'Pitch Perfect' Trailer: The Big Screen Answer to 'Glee'?