Pitt Battles Bond & Bella at Box Office!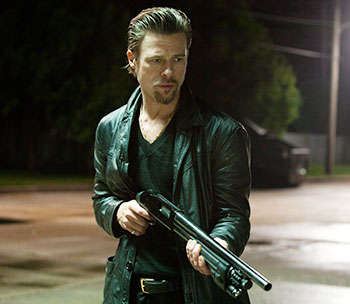 The post-Thanksgiving weekend is typically a slow one in theaters and this will be no exception. Nevertheless, a record-breaking Thanksgiving frame last weekend puts the industry on track for a record-breaking box office year with revenues running 5.5% ahead of last year at this point.
This weekend James Bond and the Twilight kids will battle for first place while Brad Pitt and James Gandolfini in Killing Them Softly will struggle to break into the Top 5.
The Twilight Saga: Breaking Dawn, Part 2 from Summit Entertainment (a Lionsgate company) has a shot a repeating for a third time at the top of the box office, but Sony's Skyfall with continued strong word-of-mouth and the potential for a smaller weekend over weekend percentage drop could also make a strong bid for number one. The two films have nearly identical North American totals to date with each at around $230 million through Wednesday. Both films have contributed heavily to strong overall sales in recent weeks and either could earn in the high teens (and perhaps as high as $20 million) to lead the charge this weekend in what could turn out to be a photo finish.
Also making its mark is Disney's acclaimed historical drama Lincoln from director Steven Spielberg which has performed impressively in the mid-week derby and should have another solid weekend in the low to mid-teens and $80 million plus in North America by Sunday night.
Paramount's Rise of the Guardians from Dreamworks animation was singled out for a fairly weak Thanksgiving weekend debut, but could redeem itself in its second weekend with a gross in the low teens. Featuring classic and iconic childhood characters Jack Frost (Chris Pine), Santa Claus (Alec Baldwin), The Tooth Fairy (Isla Fisher), The Easter Bunny (Hugh Jackman) the film should benefit from its holiday theme and less competition from Wreck-It Ralph which has been in the marketplace for over 4 weeks.
20th Century Fox's Life of Pi directed by Ang Lee (Brokeback Mountain, Crouching Tiger, Hidden Dragon) will continue to build an audience after somewhat soft debut over Thanksgiving as word-of-mouth continues to build. A weekend gross in the $12 million range will bring its N. American total to close to $50 million.
Weinstein Co.'s Killing Them Softly reunites Pitt and Gandolfini (who appeared together in 2001's The Mexican) and also stars Ray Liotta in this uber-violent R-rated crime drama set among the world of contract killers and card sharks. An opening shot of around $10 million will give it a likely debut outside of the top 5 this weekend.
Also opening is the horror entry The Collection from LD Entertainment in 1,403 theaters with little chance to scare up too much business with a opening weekend of $5 to $6 million.
Photo Credit: The Weinstein Company

Britney Spears to Be Fired From 'X Factor': Report