Pixar Creates the Most Adorable Umbrella of All Time in New Short Film — VIDEO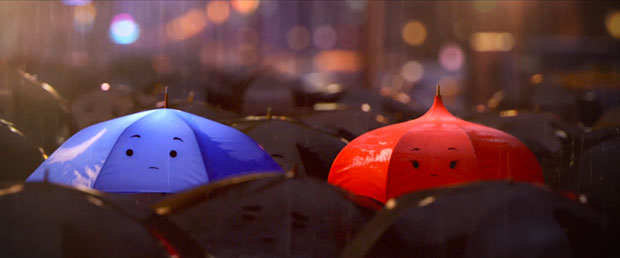 Pixar has made a magical name for itself by giving big stories to small parties (Toy Story, A Bug's Life, Ratatouille), by shedding a new light on realms only treated with darkness (Monster's Inc., again Ratatouille), and by inviting viewers into sheer explosions of imaginative whimsy (Wall-E, Up, and once more Ratatouille… I really love that movie). The latest piece of all-but-guaranteed glory from the animation studio is a short titled "The Blue Umbrella," which seems to set its titular character off on a wordless journey of love, romance, and adorable facial tics.
The new clip from the short film doesn't give much in the way of plot, but we do see our cerulean hero catch the eye of a nearby parapluie with a welcoming smirk and tempting lashes. In a world of colorless drones and perpetual showers, can these two bumbershoots nab the hemispheric love for which they long? Check out the clip for a glimpse into Pixar's newest short, which appear before their next feature film, Monsters University, on June 21, 2013.
[Photo Credit: Pixar]
More:
'Frankenweenie' Monsters Come Out for the Blu-ray — EXCLUSIVE PICS
New 'Star Trek Into Darkness' Photos Show Kirk, Pike, Scotty, and Baddie John Harrison
J.J. Abrams Shows 'Star Trek: Into Darkness' to Sick Fan Before His Death

'Texas Chainsaw': Top 5 Leatherface Kills (Moviefone)