The Play's the Thing: Shows-within-a-Show That Deserve Real Productions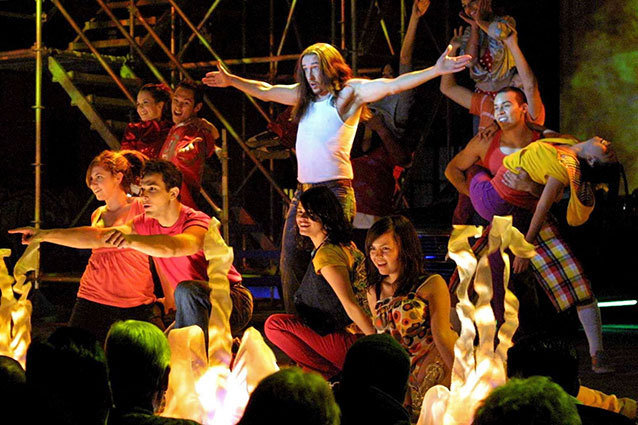 Focus
"Hit List," one of the rival fictional musicals in the second season of Smash (RIP), is getting a real, in-concert performance in New York City. And it sold out in a manner of minutes. The "let's fix up the old barn and put on a show!" motif is still alive and well, so we've put together a shortlist of contenders  for the next fully realized production of an onscreen play.
"Hamlet 2" — Hamlet 2
No one better described the often ludicrous nature of live theater better Dana Marschz, the drama teacher who saved his high school's theater program with their production of his original Shakespearean sequel, "Hamlet 2": "Yes, it was stupid, but it was also art." Can't you just picture erstwhile host Neil Patrick Harris introducing Steve Coogan, Skylar Astin, and the rest of the cast to close out the Tonys with a rollicking performance of "Rock Me, Sexy Jesus"? Plenty of cutaway reaction shots to a confused Elaine Stritch, of course.
"Bombshell" — Smash
In the middle of a whole lot of wrong, one thing Smash always got right were the songs. With music composed by Marc Shaiman and Scott Wittman of Hairspray fame, the long-term plan for the series was to eventually present the theater tie-in — a real, Broadway production of Bombshell. Let's rescue Megan Hilty from Sean Saves the World and get her back into that Marilyn dress where she belongs.
"Snow White and the Seven Dorks" — Saved by the Bell
Get Lin-Manuel Miranda from In the Heights to punch up these songs and an Elizabeth Berkley straight on the heels of her successful Dancing with the Stars run, and we could really have something here.
"Spectacular Spectacular" — Moulin Rouge!
Baz Luhrmann is planing to bring his first feature Strictly Ballroom to Broadway, but we'd prefer the full version of genius poet Christian's Bollywood-style masterpiece, "Spectacular, Spectacular." We've already been promised that "it will run for 50 years," so investors should be lining up with their checkbooks.
"A Midsummer Night's Rockin' Eve" — Get Over It
Because Sisquó needs a job.
"Red, White, and Blaine" — Waiting for Guffman
An Off-Broadway theater. The Christopher Guest ensemble. Classic songs like "Stool Boom" and "Nothing Ever Happens on Mars." The triumphant return of Corky St. Clair. A real, onstage tribute to the fictional town of Blaine, Missouri would be an instant high-brow hit and a dream come true for fans of one of the greatest mock-docs of all time.