Kit Harington Goes Beyond the Wall in the Teaser for 'Pompeii'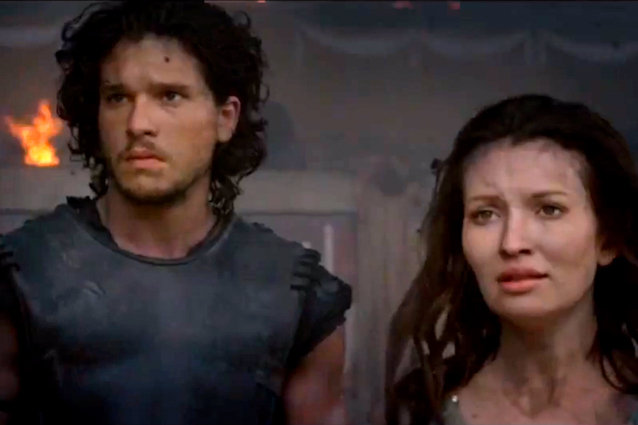 Looks like Resident Evil and Alien vs. Predator director Paul W.S. Anderson has lent his signature mix of horror and action to a slightly more, ahem, historic tale in the teaser trailer for his new film, Pompeii. While the trailer doesn't give much context in terms of plot, it does give a glimpse of an adrenaline fueled take on the ancient city's destruction in the wake of the eruption of Mt. Vesusvius.
Beginning with the classic "a story untold" voice over, the first half of the teaser displays the director's tendency for bodily horror with the ash covered corpses of the disaster's victims, while the second half deploys his usual death defying stunts and CGI extravengazas.It also heavily features Kit Harington, known mainly for this portrayal of Jon Snow on Game of Thrones, putting on the shoes of an action star in the least amount of period clothing possible. Seeing Jon Snow beyond the wall and leading his own film may be reason enough for many to see if this disaster film lives up it's infamously historic origins. 
More:
'The Book Thief' Trailer
Clint Eastwood Takes on 'American Sniper'
'Inside Llewyn Davis' Trailer
---
From Our Partners:


40 Most Revealing See-Through Red Carpet Looks (Vh1)


15 Stars Share Secrets of their Sex Lives (Celebuzz)