Pope Francis Named 'Time' Magazine's Person of the Year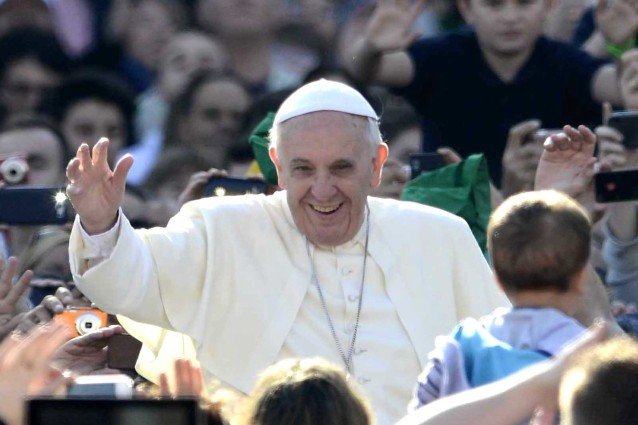 WENN
All of those who lived in fear that Time magazine would declare Miley Cyrus to be the Person of the Year can finally breathe a sigh of relief; the honor was instead awarded to Pope Francis, who became head of the Catholic Church in March. Nancy Gibbs, the magazine's managing editor explained the choice, stating that "So much of what he has done in his brief nine months in office has really changed the tone that is coming out of the Vatican. He is saying, 'We are about the healing mission of the church, and not about the theological police work that had maybe been preoccupying us.'" 
Pope Francis beat out a shortlist that included last year's winner President Obama, as well as Edward Snowden, Senator Ted Cruz, and of course, Miss Cyrus. Both he and Cyrus were also named to Barbara Walters' Most Fascinating People list, which means that 2013 is officially the year when pop stars and religious leaders collided. Although Cyrus led in Time's reader poll, the final decision is always made by the magazine's staff, which means that we were all essentially upset over something that we shouldn't have been worried about. 
But as with all end-of-the-year lists, the choice is bound to be divisive. After all, there's no way that only one human being can be considered to have the greatest influence on every single person on the planet. And that is why every year, multiple publications all declare a different person to have been the most entertaining, the most fascinating, the most influential or the best looking person of the year. We've rounded a bunch of them up for you, so that you can decide which one had the greatest impact on your and your life in 2013. 
Entertainment Weekly's Entertainer of the Year: Sandra Bullock
Why: For giving two fantastic performances in two of the year's biggest films, The Heat and Gravity. For her friendship with Melissa McCarthy. For making us all root for her and George Clooney to get together. For being the most likeable movie star currently working. 
GQ's Man of the Year: Justin Timberlake
Why: For launching the biggest and most talked-about comeback of the year. For starring in both one of the best (Inside Llewyn Davis) and one of the worst (Runner, Runner) films of the year. For earning seven Grammy nominations. For being best friends with Jimmy Fallon. For being one of the best recurring SNL hosts around. 
People's Sexiest Man Alive: Adam Levine
Why: For being a coach on the biggest reality show in the country, The Voice. For his uniform of skinny jeans, leather jackets and white V-neck shirts. For his engagement to Victoria's Secret model Behati Prinsloo. For sparking nation-wide debate about who would be a better choice for the title. 
Glamour's Man of the Year: Daniel Radcliffe
Why: For his starring roles in Kill Your Darlings and on the West End in The Cripple of Inishmaan. For playing a younger version of John Hamm in A Young Doctor's Notebook. For his dedication to his charity work. For breaking away from Harry Potter while still appreciating the opportunities and fans it brought him. For the terrible hair extensions he has to wear for Frankenstein. 
Glamour's Woman of the Year: Lady Gaga
Why: For releasing Artpop, one of the most highly-anticipated albums of the year. For her work with her Born This Way Foundation. For declaring that her Glamour cover should have gone to Malala Yousafzai. For dressing up as a human Christmas tree.