Porn, Drugs, and Jane Lynch: The Crazy Trends of Sundance 2013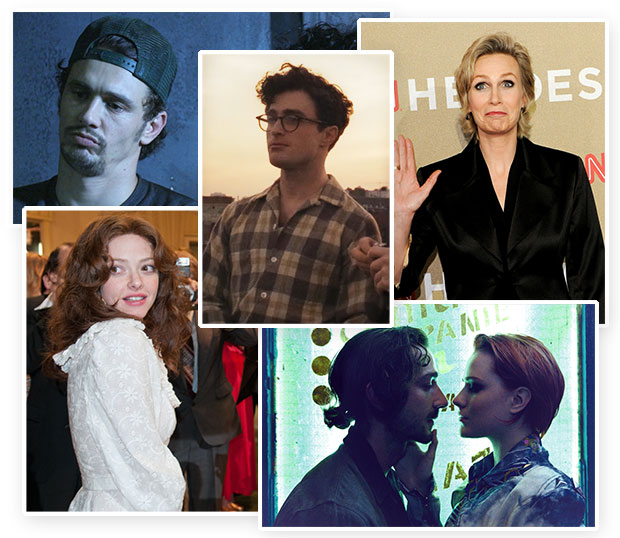 Everyone at Sundance is always looking for the next Little Miss Sunshine or Beasts of the Southern Wild, that breakout hit that will make millions of dollars and maybe win an Oscar or two. This year that hit seems to be Fruitvale. What they're missing is that beyond quality buzz, there are crazy trends that run from movie to movie. I'm not talking about "sex" or "coming of age stories" or "non-linear narratives that will bore you to tears." Those are at Sundance every year. I'm talking about the things that are a little bit more specific and totally odd.
Below is a list of things that I saw in at least three movies (OK, some only have two movies, but they are so specific they need to be mentioned.) Let's hope it doesn't say too much about us as a country that porn, shootings, and snake bites are all on the list:
Porn: Sex tends to be on everyone's minds in Park City, but this year there was a specific focus on the porn industry specifically. The official selections include Lovelace, the biopic about Deep Throat star Linda Lovelace; The Look of Love about British porn magnate Paul Raymond; and Kink, a documentary about porn site Kink.com (I'm not including a link for your work computer's protection). None of these really disparage the porn industry, but rather look at it as a whole and what effect it has on us. Even Lovelace which shows its star reluctantly having sex on screen doesn't denegrate the material so much as her abusive relationship. Speaking of the effects of porn, we can't fail to mention Joseph Gordon Levitt's directorial debut Don Jon's Addiction where he stars as a guy addicted to porn. It's played for laughs, naturally.
Magical Realism: Long used in literature this is when the world in a story seems normal but is actually infused with supernatural elements. Stoker uses this to great effect, creating a lead character with super powers who lives in a place where logic doesn't really apply. It will give you nightmares. Escape from Tomorrow shows a man going crazy in Disney World until you realize that he's not the one insane, it's the malevolence of the park and its magic forces that are trying to do him in. One of the many unnecessary elements of The Necessary Death of Charlie Countryman is when the ghost of his mother tells him to go to Bucharest. That starts off the whole movie so without it we wouldn't have the story. Oh, if only we could have kept this whole thing from happening.
Female Directors: There were more female directors in the U.S. Narrative competition this year than ever before and half of the directors were ladies. And a big congrats to Jill Soloway for taking home the director's prize for Afternoon Delight.
Ecstasy: Like many modern movies, there was tons of drinking and pot smoking (and in Kill Your Darlings there was speed and heroin and all sorts of other things) but ecstasy really made it into the mainstream this year. An anxious woman and her uptight brother solve many of their problems with the drug in Touchy Feely and the problems start for the title character when he goes on an E binge in The Necessary Death of Charlie Countryman. Three crazy drug fiends in Crystal Fairy are on the search for an intense psychedelic. For the first time ever, there were more drugs in the movie at Sundance than at the parties.
Women Having Inappropriate Relationships: This was the year of intergenerational, completely inappropriate, sexual relationships for the ladies. The two mothers in Two Mothers are best friends who have sex with each others' sons. The teacher in A Teacher has sex with one of her students. The lifeguard in The Lifeguard has sex with an underage kid. Strangely these are all females transgressing against the norms so that the movie can look at their psychology. If a man was doing this, it would be seen as predatory and the only exploration would be when he goes on trial.
Beat Poets Behaving Badly: Much has been made about Daniel Radcliffe's gay sex scene in Kill Your Darlings but many fail to realize that this is just one of two movies about the beat poets this year at Sundance. Darlings follows Allen Ginsburg and Jack Kerouac when they were young. Big Sur follows Kerouac and a host of other writers when they're middle aged. Two seems to be a lot, but the beats are having a resurgence. It was just two years about that James Franco (another Sundance trend) played him in Howl.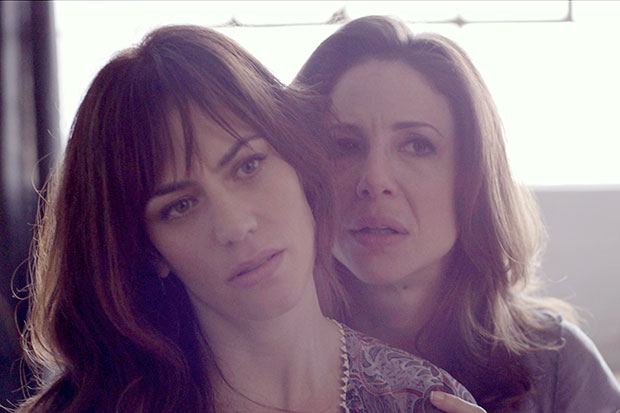 Housewives as Hookers: We saw two movies where bored housewives turn to prostitution to liven up their lives. In comedy Afternoon Delight Katheryn Hahn tries to help herself by "rescuing" a prostitute. She finally has a breakdown after going along with her to turn a trick. In the drama Concussion, Robin Weigert plays a lesbian housewife who turns to turning tricks to spice up her boring suburban life. Both of them use this transgressive act to find out more about themselves but in Concussion it seems that prostitution saves the main character where in Afternoon it ends up almost ruining her life and marriage.
Jane Lynch as a Pscyhiatrist: There were a lot of people in two movies at Sundance, but there was only one person who was in two movies playing members of the same profession. Glee Emmy winner Jane Lynch was a caustically honest shrink in Afternoon Delight and a scatter-brained earth mother psychiatric researcher in A.C.O.D.. Lynch could have just phoned it in on both of them, but she manages to make both of them distinct characters. The only trait they share is that both characters get all the best laughs.
Screwing on Kitchen Counters: We see it in both Lovelace and A.C.O.D.. Only one couple gets caught.
Juno Temple and James Franco: The official "Sundance Darlings" of the year. Temple was in three movies: Afternoon Delight, Lovelace, and Magic Magic. Franco was also in two, Lovelace and Interior.Leather Bar. and produced a third, Kink. Parker Posey will be presenting them with a trophy.
Snakebites: Perhaps the strangest trend of the year. Two movies feature characters being bitten by a snake: Mud and Toy's House, complete with slow motion shots in both of the victim being rushed into the emergency room. It was like the same scene in two vastly different movies. There were also warnings about snakes in both Prince Avalanche and Big Sur. Was this year's theme all about Eve or something?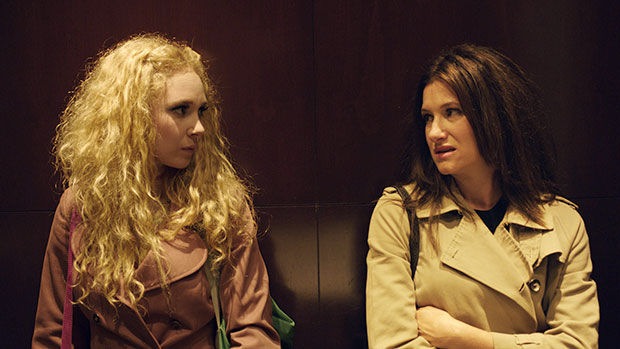 Reluctant Smokers: Trying cigarettes as a way to express a characters road to transgression was seen in three movies, Afternoon Delight, Two Mothers, and Kill Your Darlings. This does not please our Mormon hosts in Utah.
Bad Haircuts: Everywhere you turned there was someone in follicular distress. Ellen Page had the worst, mousiest hair I've ever seen on camera in Touchy Feely. Evan Rachel Wood's red dye job and blunt cut were the worst thing in Eastern Europe since the Iron Curtain in Necessary Death of Charlie Countryman. Robin Wright cut the Penn off her name but never should have cut her hair like she did in Two Mothers. Amanda Seyfried fried her hair with a perm in Lovelace. No one knows why these awful things happened.
Shootings: It's odd that in the wake of all the school shootings lately three of the movies here (that were made far in advance) are about famous shootings. Blue Caprice takes a fictional look at what drove the Washington D.C. snipers to crime. Valentine Road takes the documentary approach to the shooting of gay teen Larry King by a school bully. Fruitvale, the festival's critic's darling, shows the last day of Oscar Grant, a San Francisco man shot in cold blood by police in San Francisco in 2009.
Chile: The South American country is having a moment. Michael Cera filmed two movies there: Magic Magic and Crystal Fairy. Oscar-nominated NO stars Gael García Bernal as a man who devised the advertising strategy that rid the country of their dictator in the '80s. We have a feeling that the jingle he composed for the ads will be covered by Lady Gaga in no time.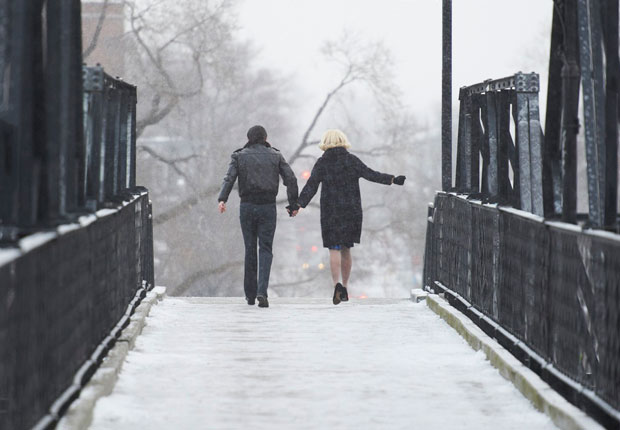 Dramatic Recreations: Three documentaries used creative solutions to how to create footage about the subjects of a film after they died. The Summit used both actors and the real climbers to recreate the deadliest exhibition to K2. Director Sarah Polley hired actors and make fake home videos for The Stories We Tell the heart-wrenching story of her mother's death of cancer and the effect her secrets had on her family. And Gael García Bernal (almost a trend himself) created the path of a Honduran immigrant to the United States in Who is Diyani Crystal. The effect in Summit and Stories was much more successful, by blending new footage and old movies to create something that the viewer can't tell wasn't shot when the events were unfolding.
Excellent Songs at the End of Movies: Does anyone who what the songs are that played as the credits rolled in both Touchy Feely and Stoker? I would like to download them both right now.
Unnecessary Punctuation: A.C.O.D., C.O.G., and The Way, Way Back are giving copy editors the world over agita. 
Check out all of our coverage from this year's festival at Hollywood.com's Sundance 2013 hub.
Follow Brian Moylan on Twitter @BrianJMoylan
[Photo Credit: Millenium Films; Wenn; Benaroya Pictures; Ascot Elite]
More:
Hollywood.com's Complete Sundance Coverage
'Fruitvale' Lives Up to Award Hype Thanks to Michael B. Jordan's Stunning Performance
Sundance Awards: 'Fruitvale' Is 2013's First Oscar Contender

J. J. Abrams and 'Star Wars': Has the Lightsaber Been Passed to the Right Director?