Post-Thanksgiving Leftovers at Box Office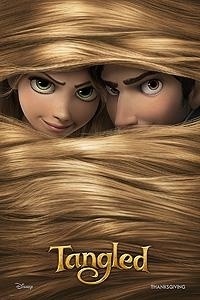 It will be the battle of the family movies as audiences snack on the box office leftovers during what is traditionally one of the lesser performing weekends of the year.  For the average film, the typical post-Thanksgiving weekend drop is in the 50 to 60 percent range and that will make for a very interesting battle for first and second place as Warner Bros.' "Harry Potter and the Deathly Hallows, Part 1" in its 3rd weekend and Disney's Tangled in its 2nd weekend will find themselves fighting for the top slot with grosses in the mid to high $20 million range.  Look for "Potter" to reach the $250 million mark and "Tangled" to cross $100 million by the end of the weekend.  
A veritable log-jam for third, fourth and fifth place will have a who's who of star power vying for movie-goers' hard-earned cash.  Cher and Christina Aquilera will certainly be in contention with the second weekend of Sony's "Burlesque" which has performed well mid-week and should maintain a solid footing with a gross in the $7 to $10 million.  Of course, Will Ferrell and Brad Pitt have remained an intimidating force with Paramount/Dreamworks' "Megamind."  In its fifth weekend of release the 3-D animated film will impressively remain a factor in the top five with a gross of between $6 and $8 million and a total domestic take of around $140 million by Sunday night.
Also bringing his "A game" is Denzel Washington in Fox's "Unstoppable" which has continued to impress and will be a top five contender as it enters its 4th weekend of release.  Offering summer-style action during the holiday period is a strategy that has paid off for the action yarn that has shown little signs of slowing since its release.
The only wide release debuting this weekend will be Relativity Media's action-fantasy "The Warrior's Way," featuring international superstar Dong-gun Jang.  Jang has been called the George Clooney or Brad Pitt of South Korea and he stars alongside Kate Bosworth and Geoffrey Rush.  Opening in about 1,500 theaters, expect a gross in the sub-$10 million range for the weekend and an eventual solid run in the international marketplace.  Also look out for the wild-card factor comes in the form of the R-rated romantic comedy "Love and Other Drugs" starring Anne Hathaway and Jake Gyllenhaal which debuted last weekend in sixth place but is showing mid-week strength and therefore could sneak its way into the top five.  
Year-to-date revenues are at $9.65 billion heading into the weekend and are running just 2.12% ahead of last year while attendance is lagging by nearly 3%.  Holiday-to-date box office is still pretty beat up compared to last year when "New Moon" and "The Blind Side" were kicking box office ass and despite "Harry Potter 7" and its amazing performance, the overall marketplace needs a real shot in the arm with revenues off by 8% vs. last year and attendance running a whopping 12.5% behind last season.