Post-Thanksgiving Turkey at the Box Office
Harry Potter and Rapunzel engaged in a box-office showdown during the traditionally slow post-Thanksgiving weekend.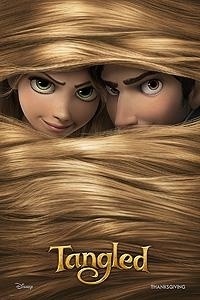 The second lowest grossing weekend of the year (an expected $88 million) as audiences snacked on the box office leftovers during what is traditionally one of the lesser performing weekends of the year.  For the average film, the typical post-Thanksgiving weekend drop is in the 50 to 60 percent range and this year was no exception with Disney's Tangled in its 2nd weekend moving up to first place with $21.5 million and a 56% drop as Warner Bros.' Harry Potter and the Deathly Hallows, Part 1 in its 3rd weekend grabbed the second spot with $16.7 million against a 66% drop.  Tangled is nearing the $100 million mark and Harry Potter 7 is closing in on the $250 million mark at the domestic box office.
Bringing his "A game" in third place with $6.1 million is Denzel Washington in Fox's Unstoppable which has continued to impress as it jumps from 5th place last weekend to third and remains a top five contender in its 4th weekend of release.  Offering summer-style action during the holiday period is a strategy that has paid off for the action yarn that has shown little signs of slowing since its release and is nearing the $70 million mark.  Tied for third place with $6.1 million is Cher and Christina Aquilera in the second weekend of Sony's Burlesque. After performing well mid-week the film is approaching the $30 million mark.
The wild-card factor appeared in the form of Fox's R-rated romantic comedy "Love and Other Drugs" starring Anne Hathaway and Jake Gyllenhaal which debuted last weekend in sixth place but showed mid-week strength and snuck its way into the top five. With $5.7 million and a slight 41% drop, it is clear that the date crowd and women are supporting the bawdy comedy that now has a domestic total of $22.6 million.  
Relativity Media is released the action-fantasy "The Warrior's Way" featuring international superstar Dong-gun Jang.  Jang has been called the George Clooney or Brad Pitt of South Korea and he stars alongside Kate Bosworth and Geoffrey Rush.  Opening in about 1,622 theaters, the film debuted in 9th place with $3 million.
The only truly good news was in the specialized film world as Fox Searchlight's acclaimed and much talked about Black Swan starring Natalie Portman debuted with a stunning $1.4 million in just 18 theatres and an impressive per-theatre take of $77,459.  Directed by The Wrestler's Darren Aronofsky, the film combines great performances with freaky visuals for maximum visceral effect.  Look for continued strong grosses for this Oscar contender as it expands in the coming weeks.
Also impressive in its second weekend is the incredible period drama The King's Speech from the Weinstein Co.  Adding two playdates this weekend, the film in just six theatres pulled in an impressive $325,874 and another terrific average of $54,312.  Word-of-mouth will continue to be strong for both of these limited release performers.
Just three weekends left in the year and thankfully several strong titles on the way as we head toward what we hope will be a strong finish to the box office year of 2010.
Weekend Box Office
Top 10 Movies – For Weekend of December 3, 2010 – Estimates
    Movie                 Weekend                             Total
1     Tangled (PG)     $21.5 M     $96.5 M
2     Harry Potter and the Deathly Hallows, Part 1 (PG-13)     $16.7 M     $244.2 M
3     Unstoppable (PG-13)     $6.1 M     $68.9 M
4     Burlesque (PG-13)     $6.1 M     $27.0 M
5     Love and Other Drugs (R)     $5.7 M     $22.6 M
6     Megamind (PG)     $5.0 M     $136.7 M
7     Due Date (R)     $4.2 M     $91.0 M
8     Faster (R)     $3.8 M     $18.1 M
9     The Warrior's Way (R)     $3.0 M     $3.0 M
10     The Next Three Days (PG-13)     $2.6 M     $18.4 M