Poster for the Masterful 'The Flowers of War' Depicts a Strange Christian Bale
Now, let's avoid the obvious oddity with this poster and focus on how wonderful this movie is likely going to be. The Flowers of War is director Zhang Yimou's (Hero, House of Flying Daggers) latest piece about the 1937 Nanjing Massacre: a tragedy that overtook China's then-capital Nanjing when murderous Japanese troops invaded and killed thousands of civilians.
The film will set Christian Bale as an American priest who strives to provide hospice to Nanjing citizens, including students and prostitutes, during this terrible attack. The film will be China's submission for the Best Foreign Language Film of this year's Academy Awards. All of this is more than worthy of our undivided attention, but somehow, it is overshadowed by whatever the heck Christian Bale is doing in this poster.
What… what is he… is he looking at her? Is he looking at us? What is that facial expression? I have never seen anyone do that with their face before. Is he angry? He looks kind of angry, but… also, kind of happy. Maybe he's one of those open-eye sleepers? Is he confused? Is he stifling laughter? Is he going for one of these? Seriously, Bale, what is this all about?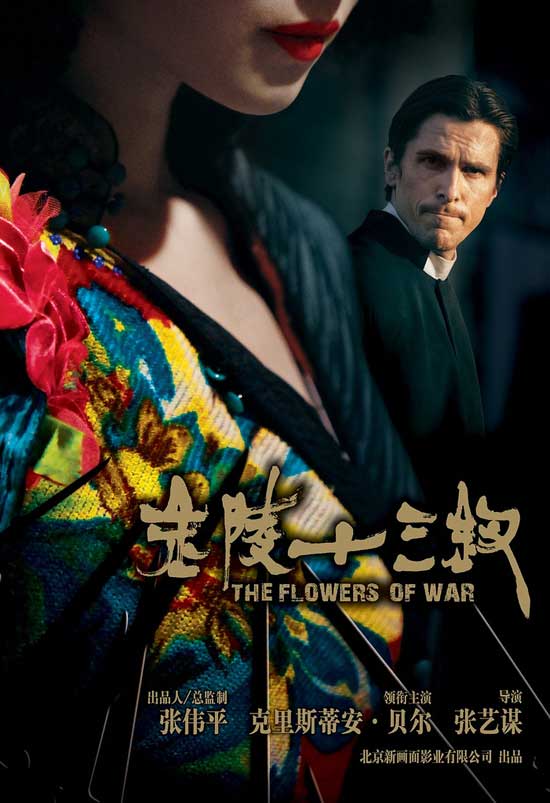 Source: Recent Movie Posters via Indiewire