'Potter 7' is Unstoppable on Monday!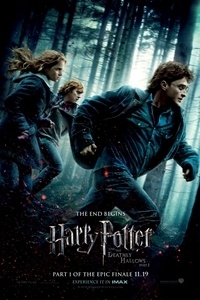 First Place – Warner Bros.' 'Harry Potter and the Deathly Hallows, Part 1' – An astonishing $8.8 million on Monday brings the domestic total after just four days of release to $133.8 million.  After a franchise high opening weekend of $125 million, the film looks to reach the $200 million mark at a rapid pace.
Second Place – Paramount/D'works' 'Megamind' –  $1.5 million for Monday gives this family favorite continued strong mid-week performances even in the face of strong competition for the family audience.  $110.8 million in total domestic revenue after 18 days of release make this a certified Holiday Season hit.
Third Place – Fox's 'Unstoppable' – With $1.1 million on Monday, the Denzel Washington, Chris Pine action film directed by Tony Scott is now up to $43 million in domestic revenue after 11 days of release.
Daily Box Office Top 12 Movies for Monday, November 22, 2010:
| | | | | |
| --- | --- | --- | --- | --- |
| Movie Title | Monday Gross | Theatres | Per-Theatre Average | Domestic Total |
| 1. Harry Potter 7 | $8.78M | 4,125 | $2,130 | $133.8M |
| 2. Megamind | $1.5M | 3,779 | $401 | $110.8M |
| 3. Unstoppable | $1.1M | 3,207 | $353 | $43.1M |
| 4. Due Date | $917k | 3,229 | $284 | $73.3M |
| 5. The Next Three Days | $616k | 2,564 | $241 | $34.6M |
| 6. Morning Glory | $480k | 2,544 | $189 | $20.3M |
| 7. Skyline | $360k | 2,883 | $125 | $18.1M |
| 8. RED | $257k | 2,034 | $127 | $83.8M |
| 9. For Colored Girls | $190k | 1,216 | $156 | $34.6M |
| 10. Fair Game | $120k | 386 | $311 | $3.8M |
| 11. Secretariat | $111k | 1,010 | $110 | $5.7M |
| 12. 127 Hours | $103k | 108 | $963 | $2.0M |
*Monday daily box office numbers provided by Hollywood.com Box Office