'Premium Rush' on Blu: Why Bike Messengers Are Modern Day Cowboys — EXCLUSIVE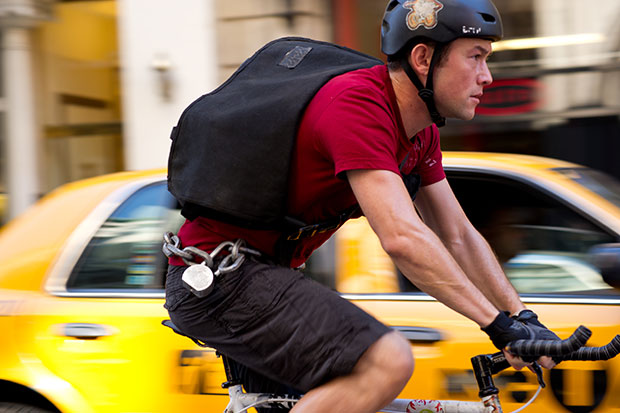 Imagine the quintessential moment of a movie Western: a gunslinger tips his hat, saddles his horse, sets off into the Wild West with Ennio Morricone tune booming in the background. Now try to imagine it modernized. When director David Koepp conjured up the Western of 2012, he envisioned a bike messenger, strapping on his helmet, jumping on his two-wheeler, and bolting through traffic to The Who's "Baba O'Riley." He was pretty spot on.
This summer's Premium Rush delivered all the speed and danger of the bike messenger lifestyle, which Koepp realistically achieved by hiring a real life rider. As Koepp told us this summer in our in-depth interview:
"The first time we shot him, he said, 'How fast do you want me to go?' And we said, 'Well, go as fast as you can go.' And he says, 'Well, I can go pretty fast.' And I thought: 'We have cars.' So it's Take One, and he was just gone. There was no prayer of keeping up with him."
Now Premium Rush is hitting Blu-ray and Hollywood.com has an exclusive behind-the-scenes video from the movie, with Koepp describing just why he thought the Western metaphor was appropriate for his crew of bike messengers. The director has another element working in his favor: like the directors who tackle Westerns, he has a lot of love for his subject matter.
Watch the video below. Premium Rush arrives on Blu-ray Dec. 21st.
Follow Matt Patches on Twitter @misterpatches
[Photo Credit: Sony Pictures]
More:
Joseph Gordon-Levitt and David Koepp Talk 'Premium Rush' and the Star's 32 New Stitches
'Premium Rush' Stuntman on the Death-Defying Lifestyle of Bike Messengers
No, You Can't Fasten Your Seat Belt: Movie Chase Scenes with Odd Vehicles

20 Hottest Bikini Bodies of 2012: Kim Kardashian and More!