President's Weekend a Solid One at Box Office!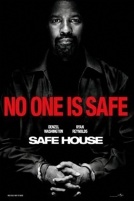 Denzel Washington and Ryan Reynolds in Universal's "Safe House" pummeled the heck out of the box office last weekend earning a much bigger-than-expected $40.2 million for second place and in the process proved that offering a counter-programmed option over Valentine's weekend was a solid strategy. Generating great word-of-mouth the R-rated action drama surprisingly shot to the top of the chart in its second weekend with a four-day total of $28.369 million and a domestic total by Monday night of $82.6 million.
Sony's romantic drama "The Vow" starring Channing Tatum and Rachel McAdams led last weekend's Valentine's box office chart with a huge $41.7 million and received additional love from audiences with a massive $11.5 million on Valentine's Day alone. A four-day second weekend gross of $26.6 million proved that even today, some relationships can last and has pushed the film to $88.527 million in domestic revenue after 11 days in release.
Warner Bros. "Journey 2: The Mysterious Island" starring action star Dwayne "The Rock" Johnson had a solid second weekend with a tiny 27% drop, a four day total of $26.4 and a domestic total to date of $59.5 million. The film is even outperforming its predecessor at the 11 day mark and has clearly become the film of choice for family moviegoers.
Sony's "Ghost Rider: Spirit of Vengeance" in 3-D starring Nicolas Cage as Marvel Comic character Johnny Blaze earned $25.7 million for the four day weekend. 65% of the weekend gross came from 3-D and this latest installment benefitted from a much lower production cost than the original film. The first installment released over President's weekend in 2007 debuted with a whopping $52 million dollars for the 4-day period.
Twentieth Century Fox unleashed the action comedy "This Means War" as a sort of anti-Valentine for those ready to leave the mushy stuff behind and embrace a different kind of romance. Starring Chris Pine and Tom Hardy as two former CIA operatives who realize they are dating the same woman played by Reese Witherspoon, the film is directed by "Charlie's Angels" and "Terminator: Salvation" helmer McG and had a stronger than anticipated $20.4 million 4-day debut.
Also opening for the first time in North America in 1,522 theaters is Disney's G-rated "The Secret World of Arrietty" which has already proven to be a sensation overseas with over $126 million in international receipts. The film earned $8.1 million for the four day President's weekend.
Year to date box office continues to kick ass with every week this year "up" vs. the comparable period a year ago with revenues up a whopping 18%.
Weekend Box Office
Top Movies for President's Weekend of February 10, 2012
Movie F-S-S-M Gross Total to Date
1 Safe House (R) $28.4M $82.6M
2 The Vow (PG13) $26.6M $88.5M
3 Journey 2: The Mysterious Island (PG) $26.4M $59.5M
4 Ghost Rider: Spirit Of Vengeance 3D (PG13) $25.7M $25.7M
5 This Means War (R) $20.4M $22.0M