SXSW: Paul Rudd's 'Prince Avalanche' Is A Hilarious, Touching Odd Couple Story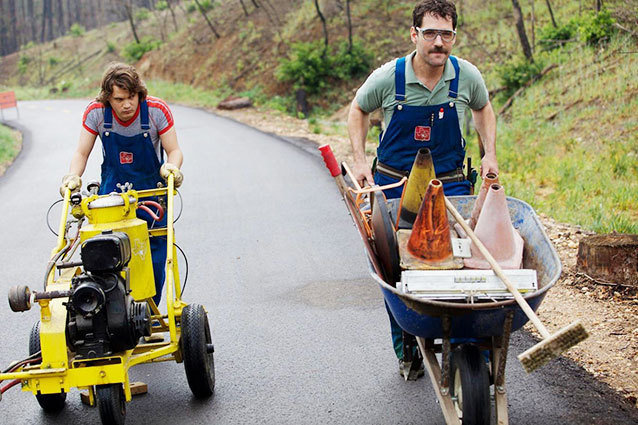 Don't let the premise of Prince Avalanche — two highway road workers, camping, bonding, arguing, and quite literally watching paint dry  — scare you off. Writer/director David Gordon Green's (heading into surprising new territory here, with wonderful results) remake of Iceland's Either Way, was one of the funniest, most unexpectedly touching films to play at SXSW. 
The film follows Alvin (Paul Rudd, stepping out of his comfort zone, thus turning out one of his best, most effective performances to date), a nerdy, reclusive type who finds peace in the solitude of his job, is joined by Lance (Emile Hirsch, who knew he was so goddamn funny?), his girlfriend's dopey brother who is as impatient to finish the job as he is to get into town and meet girls. He's the anti-Chris McCandless. Set in 1988, the two men work (which includes painting road lines and placing roadside markers over and over and over again) and camp deep in the heart of rural Texas, in the wake of devastating forest fires, which ravaged the area. 
RELATED: SXSW Review: 'Good Vibrations' is a Lovely Ode to the Power of Music
But this is no ordinary odd couple film. Among its many accomplishments, Prince Avalanche has some of those most breathtaking sequences of cinematography in any film this year. Perhaps that's what helps make it one of those rare movies where you actually feel like you're there. You smell the smells of the woods, can feel the dampness of the rain, and, yes, at times, get anxious with Lance's boredom. I felt more transported to a different time and place with Prince Avalanche than I do with most sci-fi time travelling, special effects-heavy movies. 
Prince Avalanche also made me laugh harder than any other film at SXSW, propelled by Hirsch's pitch-perfect dumb guy act and Rudd's dry nonchalance. Though, they do allow the actor to pull off some of his trademark comedy moves, like his goofy dancing and an even goofier run during a deliriously silly chase sequence.
RELATED: SXSW Review: 'Short Term 12' is a Small Movie with a Big Impact
But the comedy is only heightened by the darker places the actors and writer/director allow the film to go. There's a scene in which Rudd encounters an older woman sifting through the ashes of her destroyed home that is simply heartbreaking. On the flip side of that, there's a hilariously cantankerous truck driver who occasionally passes by to dispense quips, booze, and surprisingly helpful life lessons. He and the old woman intersect for a pivotal scene later in the film, but I won't spoil what it is. 
Alvin and Lance's job may be slow moving, but the movie is anything but. Both men hit personal crossroads, when each receive life-changing news from the women in their lives back home. Left to their own devices, they may have gone down very different paths, but Alvin and Lance help point each other in the right direction. That's really what's at the heart of this amusing, brilliant little gem of a movie: the people who come in and out of our lives, at specific times for specific reasons. 
RELATED: SXSW Review: 'Scenic Route' is the Ultimate Road Trip From Hell
At one point in the film Hirsch's Lance suggests to Rudd's Alvin that maybe, someday, someone will make a comic book out of their adventures. I'm just glad someone made a movie out of them, because it turned out to be one of my favorite experiences not only at SXSW, but at the movies in general in a long time. Prince Avalanche is a poignant, hilarious slice of life tale and character study that sees the forest for the trees. 
[Photo credit: Dogfish Pictures]