Paul Rudd and Emile Hirsch Get Weird (with Moustaches!) in 'Prince Avalanche' Trailer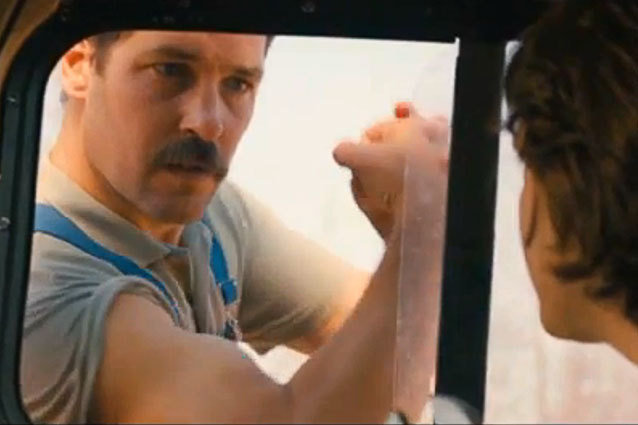 Having to create the trailer for Prince Avalanche is not an enviable task. Not because splicing together footage of Paul Rudd and Emile Hirsch is a bad thing (in fact, quite the opposite), but because David Gordon Green's film about two road marker painters deep in the heart of Texas is so hard to define. Having seen it at SXSW, words like "lovely," "unique," "touching," "dream-like," and "damn hilarious" are certainly applicable. 
Prince Avalanche is not only one of the funniest films in recent memory — thanks to the oddball pairing of Rudd (who plays the uptight, quiet, and bookish Alvin) and Hirsch (as Alvin's girlfriend's dopey, horny, listless little brother Lance), who both turn out career-best performances — but the movie is also one of the most emotional ones you'll see this year. There's a scene in the Prince Avalanche (which the trailer wisely doesn't spoil… though I wish they'd left the incredibly funny birds scene for the viewer to discover, so be wary) that will level you in a way you didn't see coming. 
The trailer clearly emphasizes the goofy dynamic between Rudd and Hirsch, alone in the wilderness in this remake of Iceland's Either Way, but it leaves out the emotional core of the two working in a post-forest fire Texas in the '80s. Yes, you can rest easy, those mustaches and outfits aren't because they're hipsters.
If the preview makes you think the movie looks offbeat and a little bit weird, well, you're not wrong. It is. But there's even more under the surface than this one-minute trailer leads you to believe. Trust me, you'll be wonderfully surprised when Prince Avalanche hits theaters in August. 
Watch the first teaser trailer for Prince Avalanche — complete with silly Paul Rudd dancing!
Follow Aly on Twitter @AlySemigran 
More:
'Prince Avalanche' SXSW Review  
Paul Rudd Would Be Down to Be Your High School Teacher
How Paul Rudd Almost Killed Leslie Mann on 'This Is 40' 
---
From Our Partners:


Beyonce Flaunts Bikini Bod for H&M (Celebuzz)


33 Child Stars: Where Are They Now? (Celebuzz)