It's Wolverine Vs. Loki (Kind of) In Hugh Jackman and Jake Gyllenhaal's 'Prisoners' Trailer
What happens when you put Hugh Jackman, Jake Gyllenhaal, and Terrence Howard in a film together? Well, aside from the obvious visual benefits, you get Prisoners, a film about parents searching for their kidnapped daughters, and the detective who's trying to help.
Jackman and Howard play the fathers of two girls who go missing one evening. They, along with their wives (played respectively by Maria Bello and Viola Davis), turn to Detective Loki, played by Gyllenhaal. 
Paul Dano plays the driver of the RV in which the missing girls were last seen playing… and yes, he does wear those creepy '70s glasses you'd expect from an RV-driving kidnapper. But when the police can't get anything out of Dano, they let him go. Jackman's not too happy about that, so he then kidnaps Dano at gunpoint in an attempt to find his daughter. It's like the Inception of kidnapping, if Inception had a declawed Wolverine. 
It's also interesting to note that Loki is the Norse god of mischief. Will that have something to do with Gyllenhaal's character? I don't know, maybe not. Maybe I'm just excited for Avengers 2.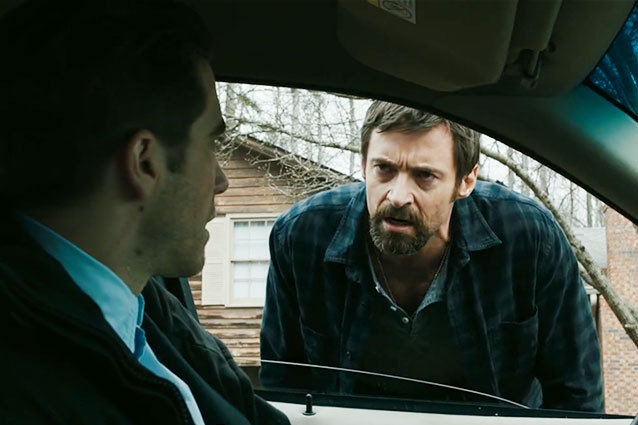 Follow Jordyn on Twitter @jordynmyah | Follow Hollywood.com on Twitter @Hollywood_com
More:
Jake Gyllenhaal Narrates 'The Great Gatsby' Audio Book and We Can't Stop Smiling
'The Wolverine' Trailer Dubbed With Slide Whistle — Is Hugh Jackman Still a Badass?
Hugh Jackman's Stalker Threw Her Pubic Hair-Ridden Razor At Him
---
From Our Partners


Stars Pose Naked for 'Allure' (Celebuzz)


Let's Translate Walter White, Taylor Swift and More into Dothraki (Vulture)