Producers Guild Awards Nominations Announced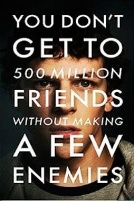 The Producers Guild Awards nominations were announced today with little to no big surprises. As expected, The Social Network, The King's Speech and The Fighter were honored by the Guild, with 127 Hours, Black Swan, Inception, The Kids Are All Right, The Town, Toy Story 3 and True Grit rounding out the nominations.
The Wrap notes that a few critical darlings including Debra Granik's Winter's Bone and Derek Cianfrance's Blue Valentine were excluded, but the Producers Guild generally gravitates toward bigger-budgeted fare. Again, no big surprises.
In the animated features department, Toy Story 3, How To Train Your Dragon and Despicable Me nabbed the nominations, with Tangled and the indie favorite The Illusionist left out in the cold.
For television, comedies 30 Rock, The Office, Modern Family, Glee and Curb Your Enthusiasm made the grade while dramas Mad Men, Lost, Breaking Bad, True Blood and Dexter received nominations, shocking no one.
Mini-series, or long form/made-for-television movies' nominations went to The Pacific, You Don't Know Jack, Temple Grandin, Pillars of the Earth and Murder on the Orient Express. Non-fiction television (read: Reality) shows honored include Anthony Bourdain: No Reservations, Deadliest Catch, Intervention, Undercover Boss and Kathy Griffin: My Life on the D-List while Competition/Live Entertainment programs Real Time with Bill Maher, The Amazing Race, The Colbert Report, Project Runway and Top Chef received nominations.
The subtext of this report is the fact that the Academy of Motion Picture Sciences generally votes the same way as the PGA, which has agreed with the Academy on about 80 percent of its nominations.The PGA winners and Oscar winners have agreed six out of the last 10 years, including the last three years in a row.
The Producers Guild Awards will take place on January 22nd at the Beverly Hilton Hotel (three days before the Oscar nominations go out) and will be hosted by power producer Judd Apatow.
Source: The Wrap