Production Begins on 'Sin City' Sequel 'A Dame to Kill For'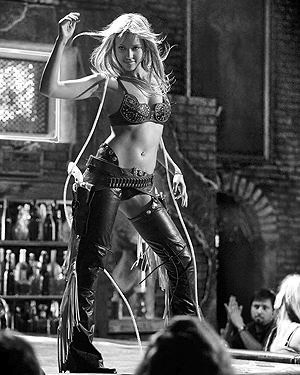 After seven long years, work has finally begun on the sequel to the neo-noir hit Sin City. Filmmakers Robert Rodriquez and Frank Miller announced today that casting will start next week and the film is expected to start shooting this summer.
"The first question I am always asked is 'When will you make another Sin City?'" says Rodriquez. "I have wanted to re-team with Frank Miller and return to the world he created since the day we wrapped the original, but have felt a duty to the fans to wait until we had something truly exceptional that would meet and exceed what have become epic expectations. A Dame To Kill For will certainly be worth the wait."
Previously, Rodriquez has stated that Sin City: A Dame To Kill For will focus on the graphic novel of the same name, as well as two new stories from Miller. Much of the original cast is expected to return, particularly Clive Owen, whose character Dwight is featured heavily in A Dame to Kill For. 
Frank Miller, who will serve as screenwriter and co-drector on the film, says, "The first Sin City knocked out audiences who had never seen anything like it before, Robert Rodriguez and I are going to shake things up and deliver a ferocious film experience that is going to go even further than the first."
[Deadline]
More:
A Brief History of 'Sin City 2' Rumors
Will Ferrell Talks Nude Scenes and Stunt-Butts in 'Casa de mi Padre'
SXSW 2012: '21 Jump Street,' 'Cabin in the Woods' Lead the Fest's Full Slate