Noomi Rapace Reveals She's Talking 'Prometheus 2' with Ridley Scott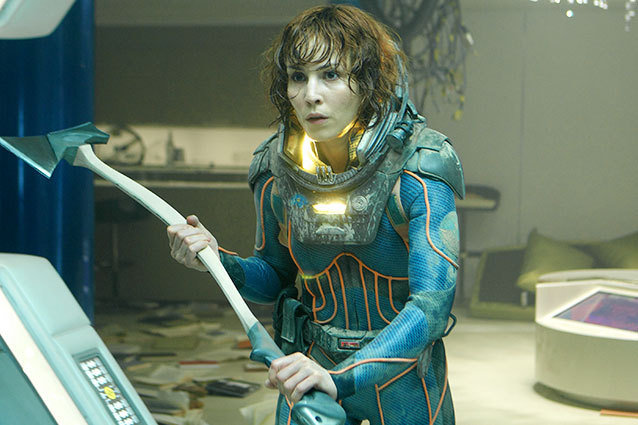 Last year, director Ridley Scott returned to the world of Alien in the mystery-heavy, philosophically-inclined sci-fi blockbuster Prometheus. The movie was polarizing: some people ate it up, taken by the grand cinematography, fascinated by the complication of the Alien mythology, and horrified by Scott's skillful scare tactics. Other's were less than enthused, citing Damon Lindelof's script — undeniably founded with wild imagery and imagination — as being too ambiguous. Like those throwing their arms up after the finale of LOST, half the Internet questioned the plotlines of Prometheus that seemingly went nowhere.
RELATED: 'Prometheus': 13 Questions We Want Answers To
One thing was certain: when star Noomi Rapace's zoomed off an alien planet in the "Engineers" spaceship, Prometheus was left open for sequels.
Now, according to Rapace, who sat down with Hollywood.com to discuss her new film Dead Man Down, the continuation of the prequel franchise may finally be in development, with Scott and writers sitting down to craft the next installment.
"I had dinner with [Ridley Scott] in London a couple of weeks ago," Rapace says. "It's definitely the goal. I think everybody wants to do it. So we're just kind of working on the script."
Who may be working with Scott on that script is yet to be confirmed. Around the release of Prometheus' Blu-ray last December, Lindelof made it clear that he would not be returning for a sequel. With a new collaborator, Scott could take a Prometheus 2 in a number of directions, steering away from the grand ideas that flooded the original. What does seem clear is that Rapace's Elizabeth Shaw will be involved. Last time we saw her, she was bent on revenge against the Engineers, aiming to travel to their home planet to deliver a dose of their own medicine. With Rapace back for more Prometheus, we could see that plan carried out.
RELATED: 'Prometheus' Sequel: How Ridley Scott Can Fix It
What do you want to see in a Prometheus sequel? Sound off with your ideas and theories below. Watch Rapace give us the lowdown on Prometheus 2 in the video below:
Follow Matt Patches on Twitter @misterpatches
Reporting by Patricia Ramos
[Photo Credit: 20th Century Fox]
---
From Our Partners:

Kate Upton Bares All In Body Paint (Celebuzz)


33 Child Stars: Where Are They Now? (Celebuzz)