'Prometheus' Trailer Premiere is a Hit!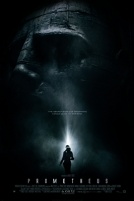 In what is perhaps the first time that a major Hollywood studio and a national theater chain have partnered on something this big, Twentieth Century Fox along with AMC Theaters debuted the new trailer for the sci-fi thriller 'Prometheus' simultaneously in theaters and on-line this past Saturday, March 17. In addition, visionary director Ridley Scott and co-screenwriter and executive producer Damon Lindelof participated in a Livestream Q&A session at the AMC Downtown Disney 12 in Anaheim, CA in front a live audience.  The new trailer has been a huge hit on YouTube where it currently resides on the home page and has generated nearly 5 million views.  The excitement surrounding the film is off the charts and the new trailer is intense, foreboding and has made this one of the most anticipated films of the summer season of 2012. 
Ridley Scott Q&A and Prometheus Trailer Premiere.
See the new 'Prometheus' trailer.
The film opens wide on June 8 and features an amazing cast including Noomi Rapace, Charlize Theron, Michael Fassbender, Idris Elba and Guy Pearce.