Prop 8: The Movie? Hollywood's History With the Gay Marriage Debate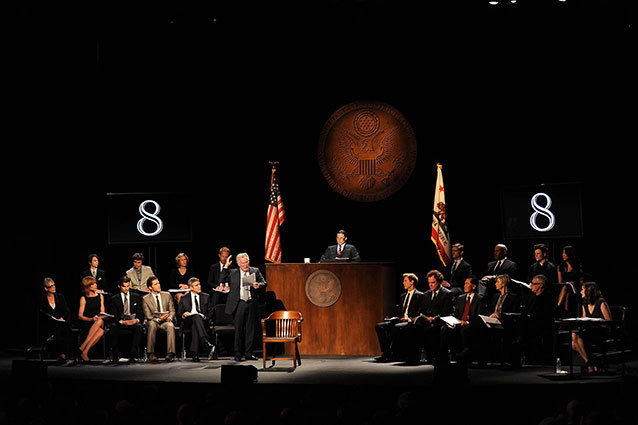 It's no surprise that Hollywood has been so invested in Proposition 8 over the past few years. Never mind that the controversial ballot proposition and the landmark case that followed which banned same-sex marriage (the ban was later declared unconstitutional) is happening right in their own backyard in California, but Hollywood — which never shies away from speaking out about a cause it believes in — is both a largely gay and gay-friendly community. 
On Tuesday, the Supreme Court justices are hearing arguments on Prop 8 and the Defense of Marriage Act (which denies federal spousal benefits to same-sex couples), with the future of marriage rights and equality in the country hanging in the balance. The headline-grabbing news and debates regarding Prop 8 is intense and dramatic as is in real-life, but Hollywood has been telling the important page in American history, as its happening, and it seems as though they will continue to do so, no matter what today's outcome is. 
RELATED: Almost All of Michelle Shocked's Concerts Canceled After She Tells Crowd God Hates Gays
Prop 8 has already been turned into a musical and a play, now it seems it could be headed for the silver screen. According to BuzzFeed, actor/writer/director/all-around mensch Rob Reiner is working with Oscar-winning scribe Dustin Lance Black (Milk) to turn his play 8 into a film. Reiner, who is  a co-founder of the American Foundation of Equal Rights (a backing the Prop 8 challenge), told the site, "We are working on it. Lance is working on a screenplay, and hopefully, when he finishes it, I'm going to direct it." No word on whether the original casts (plural) will return for the movie treatment. 
Reiner was just one of the big name stars to appear in the 2011 Broadway production of the courtroom reenactment. (Among the other stars to take part in the original cast presentation were Morgan Freeman, Matt Bomer, Ellen Barkin, Bradley Whitford, and John Lithgow). The show, in which Black gave a detailed, verbatim account of transcripts from the 2010 trial and personal testimonials, went on to have another show in Los Angeles which featured an even bigger line-up (Brad Pitt, George Clooney, Jamie Lee Curtis, Chris Colfer, and John C. Reilly, just to name a few) and was broadcast worldwide. 
RELATED: Angelina and Brad's Engagement Lets Down Gay Americans
The play/educational tool, which raised around $2 million for the American Foundation of Equal Rights and was described by the Los Angeles Times at the time as "part activist theater, part Hollywood in-party", is still available to watch online. You can watch the entire 90 minute show here: 
Of course, before 8 the Play, there was  Prop 8 the Musical, the less-serious, but equally impactful (if not more so, considering it has over 7 million views to date) viral video from Funny or Die. Released in 2008, before the trial, the social commentary in the clip is as scathing as it is, well, funny. Featuring the likes of Rashida Jones, Neil Patrick Harris, Andy Richter, Maya Rudolph, and Jack Black as Jesus Christ, Prop 8 the Musical is as hysterical, catchy, and sadly, all too relevant today as it was five years ago. See it again below: 
[Photo credit: American Foundation for Equal Rights] 
---
You Might Also Like:


15 Oscar-Winning Nude Scenes


10 Insane 'Star Wars' Moments You Didn't Notice