Last of the Mohicans: Punk Rock Movies
'Suburbia' (1984)
Directed by Penelope Spheeris (The Decline of Western Civilization), this movie about a haphazard family of feral L.A. punks throbs with teenage angst. (Not to be confused with Richard Linklater's 90s SubUrbia). Look out for the Red Hot Chili Peppers' Flea and Platoon/Point Break's Chris Pederson. As well as live footage of local bands including The Vandals and T.S.O.L. Fun fact: the movie inspired the Pet Shop Boys song 'Suburbia.'
Suburbia Productions
'Ex-Drummer' (2007)
Punk infects a tiny village in Brussels as three disabled, drug-addled losers form a band. Their choice of drummer – a well-known local writer - has one small handicap: he can't play drums. This technicality is, thanfully, not a biggie in punk rock. Join the hapless band as they take 'No Future' very, very literally.
Wide Management
'The Decline Of Western Civilization' (1981)
Ok, this is the definitive chronicle of the birth of hardcore, but even genre nerds should agree that the punk spirit is still pungent. Black Flag, Fear, Circle Jerks and the Germs star.
Spheeris Films Inc.
'Jubilee' (1978)
An early Derek Jarman film, in which Queen Elizabeth I time travels to '70s Britain and a crew of post-punk girls punctuate their boring existence with the occasional murder.
Megalovision
'Rock 'N Roll High School' (1979)
A high school movie, lorded over by the Ramones at the height of their punk powers. Because when punk wasn't being all political and gross - it was fun.
New World Pictures
'Sid and Nancy' (1986)
A morbid, heroin-addled Romeo & Juliet for the blank generation.
Zenith Production
'Times Square' (1980)
A precursor, supposedly, to Allan Moyle's Pump Up the Volume, this is a movie about two girls who escape a nuthouse and become The Sleez Girls.
Studio Canal
'Another State Of Mind' (1984)
A DIY cult classic among the (admittedly microscopic) niche of massive Social Distortion and Youth Brigade fans. The rockumentary chronicles the bands' difficult tour around Canada and America. (And, like any decent movie about American hardcore punk, it also contains Minor Threat.)
Time Bomb
'The Punk Syndrome' (2012)
Finnish film about four mentally-disabled guys who start a punk rock band and rail against society – and pedicures.
Mouka Filmi Oy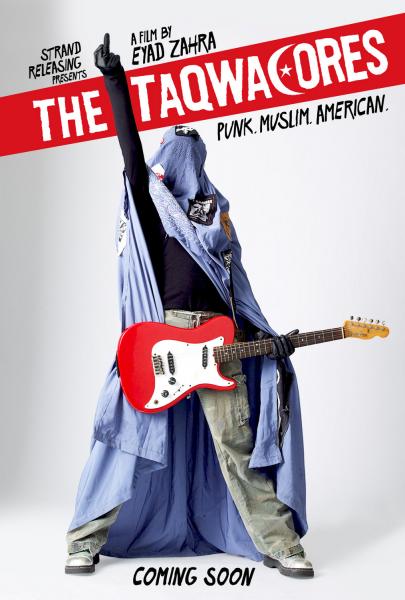 'The Taqwacores' (2010)
A flawed, but interesting exploration on what it mean to be young, Muslim and Mohicaned in Buffalo, NY. A Pakistani engineering student gets into Taqwacore – a tight-knit Muslim punk rock scene.
The Taqwacores
'Rude Boy' (1980)
The special edition DVD has a "Just Play the Clash" function, which should get a lot of people going in for the awesome concert footage. But stay for the part-documentary/part-narrative film: an atmospheric snapshot of politically charged '70s Britain.
Buzzy Enterprises