Put 'Bridesmaids' on Your Registry September 20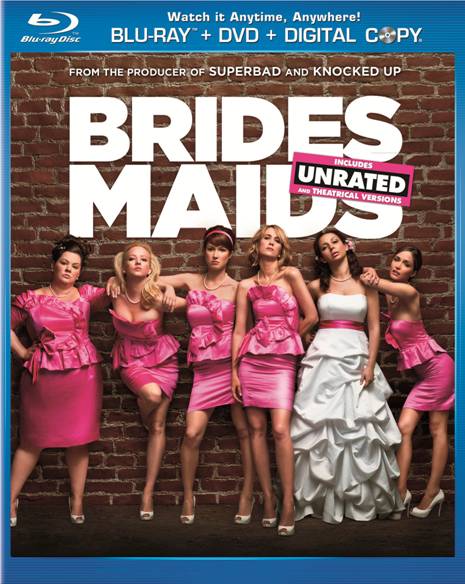 When the credits began to roll at the end of Bridesmaids, I was unprecedentedly somber. I had been waiting so long with such ardent anticipation to see this movie—and what a fine, fine movie it was—and it was all over. Never to be seen again. It turns out, I was so overcome by grief, that I had completely forgotten that it wasn't 1951. Because come this autumn, I will be able to see Bridesmaids again! And not just me, you will too! Because this movie—this fine, fine movie—is available on Blu-Ray™ and DVD starting September 20!
Kristen Wiig's masterwork of a dramatic comedy, detailing her character Annie's strained friendship with longtime best friend Lillian (Maya Rudolph) when the latter begins to plan her wedding. Annie is at increasing odds with Helen (Rose Byrne), her rival for Lillian's camaraderie, and is backed in comedy by a trio of slightly "off-kilter" bridesmaids (just like in the title!), Ellie Kemper, Wendi McClendon-Covey and the scene-stealing Melissa McCarthy.
Check out the special features included, and consider yourself lucky for living in the Blu-Ray age.
EXCLUSIVE BLU-RAY BONUS FEATURES:
• DIGITAL COPY: Viewers can redeem a digital version of the full-length movie to watch on an array of electronic and portable devices.
• GAG REEL (Blu-Ray Version)
• DELETED SCENES: Tons of deleted scenes, plus a never-before-seen "commercial" for Brynn and Gil's
Oo-Laka Juice.
• EXTENDED & ALTERNATE SCENES: Tons of extended and alternate scenes featuring the bridesmaids, the boyfriends, the roommates, Cholodecki's employees and customers, and the hilarious "stolen" boot camp class.
• MADE OF HONOR—BEHIND THE SCENES OF BRIDESMAIDS: A behind-the-scenes "Making Of" the film featuring Maya Rudolph, Kristen Wiig, Rose Byrne, Melissa McCarthy, Wendi McLendon-Covey, Ellie Kemper, writer Annie Mumolo, director Paul Feig and producer Judd Apatow, among others.
• DRUNK-O-RAMA: Featuring Kristen Wiig's greatest moments on the plane.
• PEP TALK: Featuring Kristen Wiig on the tennis court
• ANNIE VS. HELEN: A montage of Bridesmaids frenemies' – Kristen Wiig's "Annie" and Rose Byrne's "Helen" – best and worst moments together.
• "HOLD ON:" Full song performance of Wilson Phillips' hit "Hold On."
• BD-LIVE™: Access the BD-Live™ Center through your Internet-connected player to watch exclusive content, the latest trailers and more!
• pocket BLU™: The groundbreaking pocket BLU™ app uses iPad®, iPhone®, iPod® touch, Android™, PC and Mac® to work seamlessly with a network-connected Blu-ray™ player. Plus iPad® owners can enjoy a new, enhanced edition of pocket BLU™ made especially to take advantage of the tablet's larger screen and high resolution display. Consumers will be able to browse through a library of Blu-ray™ content and watch entertaining extras on the go in a way that's bigger and better than ever before. pocket BLU™ offers advanced features such as:
ADVANCED REMOTE CONTROL: A sleek, elegant new way to operate your Blu-ray™ player. Users can navigate through menus, playback and BD-Live™ functions with ease.VIDEO TIMELINE: Users can easily bring up the video timeline, allowing them to instantly access any point in the film.MOBILE-TO-GO: Users can unlock a selection of bonus content with their Blu-ray™ discs to save to their device or to stream from anywhere there is a Wi-Fi network, enabling them to enjoy content on the go, anytime, anywhere.BROWSE TITLES: Users will have access to a complete list of pocket BLU™-enabled titles available and coming to Blu-ray™ Hi-Def. They can view free previews and see what additional content is available to unlock on their device.KEYBOARD: Entering data is fast and easy with your device's intuitive keyboard.• MY SCENES: Bookmark your favorite scenes from the film.
• uHEAR™: Never miss another line of dialogue with this innovative feature that instantly skips back a few seconds on your Blu-ray™ disc and turns on the subtitles to highlight what you missed.
BLU-RAY AND DVD BONUS FEATURES
• FEATURE COMMENTARY: With director Paul Feig, co-writer Annie Mumolo and cast members Kristen Wiig, Maya Rudolph, Melissa McCarthy, Wendi McClendon-Covey and Ellie Kemper.
• GAG REEL (DVD Version)
• LINE-O-RAMA
• ADDITIONAL DELETED SCENES
• ADDITIONAL EXTENDED & ALTERNATE SCENES
• CHOLODECKI'S COMMERCIAL: Check out what's new with Cholodecki's when you watch the never-before-seen "commercial" from Annie's jewelry employer!