'Quartet': Dumbledore and McGonagall Take on Opera — TRAILER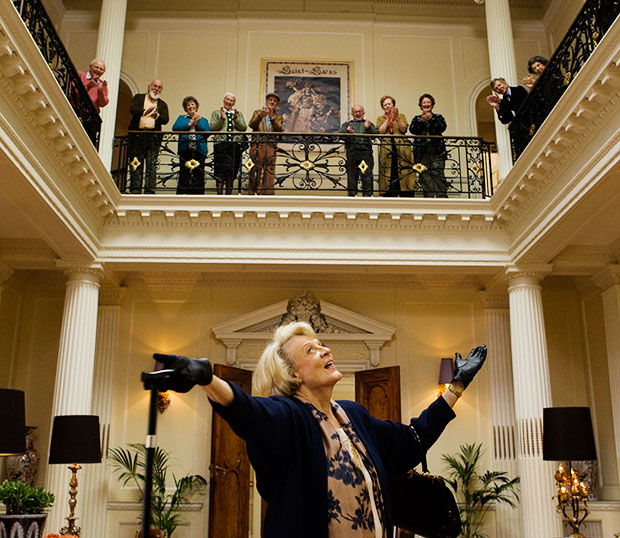 We're beginning to notice a shift in Hollywood's attention when it comes to the ages of its focal characters. More and more films have began lending their attention to older men and women, despite Hollywood's longstanding fixation with youth. The Best Exotic Marigold Hotel and Hope Springs have opted to show that an amply supply of years below one's belt does not necessitate an inability to explore new adventures and new romances — or to revive old ones. This trend, the maintenance of vigor, passion, and love throughout life, seems to carry on in Quartet: a directorial debut for Dustin Hoffman and faculty reunion of sorts for Hogwarts School of Witchcraft and Wizardry.
Maggie Smith leads a cast including her Potter pal Michael Gambon, as well as Tom Courtenay, Pauline Collins, and Billy Connolly. The latter three make up a team of retired opera singers whose annual performance is disrupted by the inclusion of fellow singer Jean (Smith) in their community, whose failed marriage to Reg (Courtenay) and slew of other old rivalries toss the status quo into disarray.
It might not seem like such a grand gesture when looking at these films individually, but keeping the increasing prevalence of the pattern in mind does seem encouraging in the destruction of ageist attitudes in cinema. Genres typically dominated by young faces — romance, comedy, adventure movies of sort — are now inviting the realization that stories like these are just as readily available in the hands of older actors and actresses.
Check out the Yahoo trailer below to see Hoffman's first stab as a feature director.
[Photo Credit: The Weinstein Co.]
More:
The Cloud Atlas Novel Vs. the Movie: The Structure is Everything
'Skyfall' Writer John Logan to Return Next Bond 24 — REPORT
Bruce Willis Thinks Today is 'A Good Day To Die Hard' — TRAILER
From Our Partners:

Exclusive New 'Twilight: Breaking Dawn' Trailer!
(Moviefone)

(Moviefone)