Quinto, Spacey, Irons and More Headline 'Margin Call' Trailer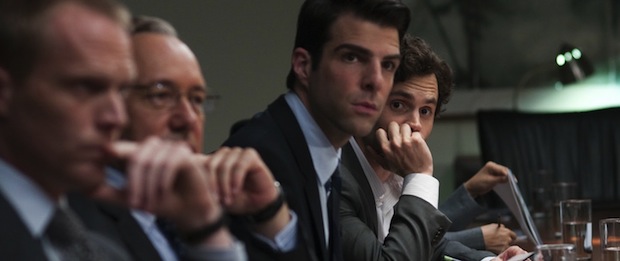 Hot on the tails of last year's economic meltdown reminders Wall Street: Money Never Sleeps, the poignant documentary Inside Job and the recent HBO drama Too Big to Fail, comes the trailer for Margin Call, a buzzy Sundance hit jam-packed with familiar faces. Zachary Quinto (Star Trek, Heroes) leads a cast of top notch talent, including Kevin Spacey, Demi Moore, Paul Bettany, Jeremy Irons, Penn Badgley, Simon Baker and Stanley Tucci, who are all intertwined to an investment firm on the verge of imploding.
The first spot for the flick is slick and gripping, showcasing the 24-hour countdown and the extreme measures each character goes to in order to survive. Should make for a good few stand-offs between these talented folks.
Margin Call hits theaters October 21.