'Rango' is New Box Office Sheriff!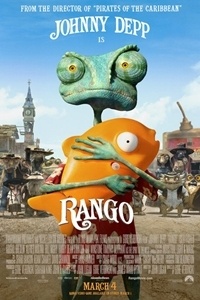 Paramount's animated feature Rango tops the weekend with the biggest debut of 2011thus far with an impressive $38 million.  Boasting an all-star voice cast led by Johnny Depp, the film is the first animated feature for special effects company Industrial Light & Magic, the company founded by George Lucas in 1975.  Families flocked to movie theatres to see the adventures of Rango, the chameleon hero sheriff of a lawless Wild West town.  Paramount's recent animated releases How To Train Your Dragon and Megamind both posted solid debuts with $43.7 million and $46 million respectively and Rango nearly matched that level of success.
Universal had a solid debut of $20.9 million for their Matt Damon mind-bending romance thriller The Adjustment Bureau co-starring Emily Blunt and loosely based on the Philip K. Dick short story, 'Adjustment Team.'  With a terrific trailer and marketing campaign, look the film had a stronger than expected debut that should be followed by a solid hold in the marketplace as bolstered by strong word-of-mouth.  Notably first time director George Nolfi wrote the screenplay for The Bourne Ultimatum and Ocean's 12 both of which starred Damon.
Beastly had a stronger than expected opening of $10.1 million. The CBS Films release put a modern day spin on 'Beauty and the Beast' and with the young female demographic clearly in their sights they hit their target.  The film stars I Am Number Four's Alex Pettyfer as the beast and High School Musical alum Vanessa Hudgens as the beauty in this update of the classic tale.  Expected to open with well under $10 million, the film will wind up being profitable since it has already covered most of its $17 million budget in foreign pre-sales.
Warner Bros.' R-rated comedy Hall Pass took another $9 million for the weekend against a tiny 33% second weekend drop.  The buddy comedy about a married guy who is given permission by his wife to cheat is a concept that audiences are clearly embracing as the Farrelly Brothers' film approaches $30 million in total domestic revenue.
Rounding out the top five with $6.9 million is Disney's consistent performer Gnomeo and Juliet which had another solid weekend even though its enjoyment of being the only family film game in town has come to an end.  A fifth place finish in its fourth weekend of release brings the film's total domestic gross to the $83.7 million mark.
The down-trending box office continues with year ago comparisons handing us a real zinger with Alice in Wonderland and its absolutely massive $116.1 million 3-D fortified record-breaking March debut.
Top Movies – For Weekend of March 4, 2011 – 3-Day Estimates
 Movie F-S-S Weekend Total
1 Rango (PG) $38.0M $38.0M
2 The Adjustment Bureau (PG-13) $20.9M $20.9M
3 Beastly (PG-13) $10.1M $10.1M
4 Hall Pass (R) $9.0M $27.0M
5 Gnomeo & Juliet (G) $6.9M $83.7M